Dr William Thomas Angove MRCS
ACKNOWLEDGEMENTS
We are most thankful to Emeritus Professor Alastair Goss for his memoir on Dr William Angove.
Dr Angove was a medical practitioner, and the founder of Angove Wines.
Memoir
Dr William Thomas Angove MRCS, LSA(Lond)
1854-1912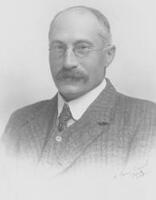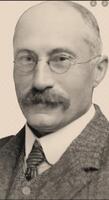 Dr Angove was a pioneer medical practitioner in the Tea Tree Gully area of South Australia from 1886 to 1912 (Fig. 1). He was described as a well-built man, with a slight stoop who spoke with a strong Cornish accent all his life. He was a man with very wide interests beyond medicine, not least of which was his pioneering work in viticulture. The winery he established, Angove Wines, remains one of the largest family owned wineries in Australia.
William was born in Mount Pleasant, Cambourne, Cornwall on the 25th of August 1854 as the fourth child of Thomas and Henrietta Angove. The Angoves were a long-established Cornish family with interests in mining and agriculture.
William's older brother Thomas studied medicine and William followed him. He graduated in medicine from St Bartholomew's Hospital and College, London in 1875. He was a member of the Royal College of Surgeons of England (MRCS) and a licensed supplier of apothecaries (LSA) (Fig. 2). On graduation he worked at St Barts as a midwifery assistant for a few months. Then for thirteen months he was a senior house surgeon at the West London Hospital, Hammersmith and then had a further period at the Great Yarmouth Hospital. Whilst there he applied for a position at Truro Hospital back in Cornwall but was unsuccessful despite some excellent references from his consultants. So, for the time, he had obtained a broad initial medical experience.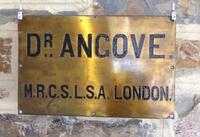 In 1878 he decided to commence a private practice in Mildenhall, Suffolk. In the first year of practice he met and married Emma Carlyon, daughter of the Rev. Frederick Carlyon, at St. Leonard's Church, Leverington.
Emma had been born in Stellenbosch, South Africa on the 12th March, 1857. They had a number of children born in Mildenhall; Thomas Carlyon (24/9/80), Hester Scudamore (16/8/81), Lucy (6/11/82), Edward Laurence (15/6/84) and Leonard Michael (18/10/85). Three more children were born in South Australia: twins Mary (known as Polly) and Harold in 1888 and Henrietta Marjory in 1889. Tragedy struck the young family early in their new homeland, with Lucy dying in 1888 and Harold in 1889.
Early medical practice in Mildenhall was not financially rewarding. By 1882 he was £700 in debt so sought a loan from his father. At that stage the family mining interests were not doing well, so his father helped but advised his son to concentrate on working and give up his guns, dogs and fishing.
During 1885 there was much dissatisfaction amongst younger medical practitioners and many considered leaving England for Canada, South Africa or Australia. His elder brother Thomas complained about his lack of private fee-paying patients but decided to stay in Cornwall. William decided to emigrate to Australia. He appointed an agent to get another medical practitioner to buy his share of the practice, then dismissed the agent and negotiated directly with the client the agent had found. There were also difficulties with his senior partner but eventually it was all resolved. However, this demonstrated William's business acumen.
The family sailed for Australia in March 1886 on the "Ben Cruachan" with Dr Angove as the ship's doctor. After 90 days they arrived in Sydney on his son Edward's second birthday. They then sailed to Adelaide on the "Collingrove" arriving in July. Soon after their arrival in Adelaide he purchased a practice for £1,130 in Tea Tree Gully from a Dr Thomas Crawley who owned a number of practices. Dr Crawley lived in North Adelaide and practiced on North Terrace. Dr Angove purchased the house of the previous medical practitioner, Dr Sydney Firler and paid £530 for the house, furniture and fittings, land and a horse and carriage (Fig. 3). He registered with the South Australian Medical Board on the 7th of July, 1886 and a week later registered as a public vaccinator.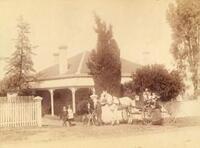 The practice covered a very large area extending from the modern-day suburbs of Magill in the south, Salisbury to the west with other medical practices at Gumeracha to the north east and Mount Pleasant to the north. The area was agricultural, producing wheat, wool, grapes, stone fruit and apples. In August 1886 he was appointed Medical Officer to the Tea Tree Gully and Highercombe District Councils. To these councils he was responsible for the destitute, poor and aboriginals with a retainer of £8 per annum. Public vaccinations were paid by the Government and fee-paying patients seen at his house.
In February 1887 he signed an agreement with the St Matthew's Branch of the Hibernian Australian Catholic Benefit Society to attend the medical needs of members who lived in the district. For this he was paid 12 shillings per member per year. This included providing medicines but he could charge an additional reduced fee for tooth extractions. Thus, he was on a relatively low income for his medical practice which covered a very large area. Indeed, later on his wife commented that he only ran his practice to fund his many hobbies and outside interests.
The family house initially had 4 rooms sitting on 3⁄4 of an acre. It had a wide verandah and over the years he expanded the size of the house. His family also expanded with the birth of twins, Mary and Harold but sadly Harold died in infancy. A last child Henrietta Marjorie was born in May 1880. He was profoundly affected when his daughter Lucy died of diphtheria at age 5. He was unable to save her. He home schooled his boys along with the local primary school. He did not believe in College as that only lead to expensive tastes!
In 1889 Dr Angove purchased 33 acres of farmland adjoining his house followed by the lease of 160 acres to the south west of Tea Tree Gully. He planted vines as he proposed to produce wine. Prescribing wine for patients was a common practice in the late 19th century and better still if you made it yourself. For example, in 1877, Dr Newbauer the then Medical Officer for the Tea Tree Gully district prescribed 1 bottle of wine per week for a destitute patient. He recommended they pay 1 shilling and six pence per bottle but the council preferred a one shilling bottle.
Dr Angove's first vintage was a shiraz in 1894. He was keen to learn and apply scientific methods to winemaking so sought advice from Professor Perkins, Professor of Oenology at Roseworthy College. They became increasingly involved and by 1895 William was appointed to the Council of the South Australian Vignerons' Association along with compatriots such as H. Buring, G. F. Cleland, W. H. Gillard, T. Hardy, H. Kay, E. Mazure, C. Reynell and E. A. Tolley. He was also on the Wine Committee of the Royal Agricultural and Horticultural Society of South Australia. He later was chairman of the Wine Committee and Vice President of the Royal Adelaide Show in 1900-1901.
By 1896 he exported 600 gallons of Tea Tree Gully riesling. He heavily involved his sons in the winery. Thomas Carlyon (known as Carl or Skipper because of his love of sailing) Angove enrolled in Oenology at Roseworthy in 1899 and went on to being the winemaker. Edward was involved in establishing the vineyards (Fig. 4) as was Leonard.
The Gumeracha Volunteer Military Force was established by the Defence Department and was a mounted rifle group. Dr Angove was appointed Medical Officer with the rank of Captain in 1886 and later promoted to Major. He was an active participant and indeed won a medal for marksmanship (Fig. 5). The sons were also involved.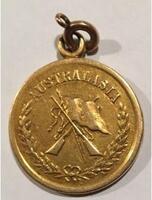 You would think that the medical practice, the winery and the military would be enough but this was not so. William had wide intellectual interests in geology, ornithology, sailing, photography and motor cars. Many of these interests had started in the United Kingdom and had been continued. Unfortunately, there was no fly fishing in Tea Tree Gully although his son Edward did take out a fishing licence when he went on his honeymoon in Tasmania.
William was fascinated by the ancient rock formations in Australia and developed a large collection of rocks. Initially housed at home but soon moved out to a cottage in the grounds of the winery.
Ornithology was another passion. Each spring he would appoint a locum for two weeks and head off birdwatching with his sons or friends. For example, in 1902 they went birdwatching on the Eyre Peninsula. He recorded over 70 species of birds and collected their eggs. On his death the family presented 278 egg clutches to the South Australian Museum. This is the best collection of birds and their eggs on the Adelaide Plains. He understood that the bush environment was needed to be maintained as bird habitat, so kept the bush around the winery. To the present day there is the "Angove Scrub" at Tea Tree Gully with a stand of native pines, sheoaks and a wide range of shrubs, herbs and orchids.
Sailing was another keenly pursued hobby, sailing on the Port River. He won cups in 1900, 1901 and 1902 with the Royal South Australian Yacht Squadron. Older son Thomas Carlyon (Skipper) kept up the sailing tradition and was Commodore of the club. In the 1930's under the influence of the wind and his company's products Skipper did get shipwrecked off Kangaroo Island.
William was a keen photographer and took many photographs of the area, birds, rocks and sailing. He had an English made wooden case for his Eastman Kodak half plate glass, negative camera. This camera is displayed at Angove's McLaren Vale winery.
Understandably William was most interested in motor cars to replace his horse and buggy. When he first started in practice it was a 4 hours horse drawn wagon ride to Adelaide or a 2-hour fast clip by buggy. His first car was a "White Steamer" made in 1902 by the White Sewing Machine Company of Cleveland, Ohio. It ran on steam, not petrol and could go for 100 miles on a tank full of water. Two years later he bought a 6hp Humberette followed by a 1hp De Bion Bouton and in 1907 a 10hp De Bion Bouton. Fortunately, Edward and Leonard Michael were good mechanically and could keep the cars running. Dr Angove liked the number 77 so all had that registration number (Fig. 6).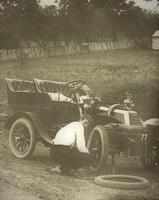 Dr Angove was very well read and maintained a large library. He discussed the classics and philosophy with his sons. The effectiveness of this was demonstrated when his son Edward successfully courted Dorothy Cotgrave Clare, who was one of the early graduates in Arts at The University of Adelaide and had a formidable intellect. They married in 1913.
In 1909 Dr and Mrs Angove returned to England for an extended visit to their relatives and see the countryside of their youth. They returned to Australian in 1910. Evidently during this visit William was diagnosed as having a cancer of the throat. He kept this diagnosis secret from his family.
In 1911 William Angove returned alone to Yorkshire and the tumour progressed. Evidently the family were told then and his daughter Hester offered to travel back to Australia with him. By then he was too ill and died on the 24th of March 1912, in England aged 58 years. He was buried in the St John Church burial ground at Silverdale in Lancashire England (Fig 7).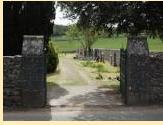 So, what was Dr Angove's legacy?
Beyond providing a good general medical service to a large rural area of South Australia it probably wasn't in medical advances.
Dr Angove raised a large family who were very successful in a range of fields.
Thomas Carlyon in oenology who saw the business develop from a small hobby enterprise to a multi-regional wine business. Edward Laurence who developed the vineyards and volunteered for the Australian Army in 1916: he was killed on the western front in August 1918. His widow Dorothy raised two sons and was headmistress of Girton School.
Hester Scudamore Angove OBE had very successful careers first as a nurse then as a pioneer physiotherapist at Guys Hospital, London. Polly (Mary) married and lived in Adelaide all her life. Henrietta Marjory (Hettie) did not marry and cared for her mother Emma Carlyon Angove as she aged. Leonard Michael also volunteered for the Australian Army in 1916 and served for 2 years as a private on the western front. He fought in the war, survived, and returned to the wine business: he later became a marine engineer but never really settled.
To this day, William Thomas Angove's main legacy is the winery he started. It was carried on by his eldest son Thomas (Carl) and now is a thriving family owned commercial venture run by John Carlyon Angove, his great grandson.
Memoir prepared by
Alastair Goss
Emeritus Professor, The University of Adelaide
-o0o-