Prof Lloyd Woodrow Cox AM
MbChB,FRANZCOG,FRCOG,FRCS,FRCSA 1919-2001

Acknowledgements
We are indebted to his son David Cox and daughter Dr. Diana Cox for this article, their family recollections, and their photographs. Dr. John Svigos' eulogy provided much information, as did the Human Services and RANZCOG Obituaries.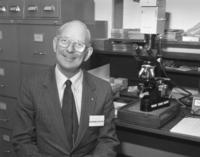 New Zealand Period One
Lloyd Cox was born in Auckland on 4 July 1919 and named Lloyd for Lloyd George and Woodrow for Woodrow Wilson. His father, Edwin, a Methodist minister was appointed to various parishes before settling in Dunedin in 1932. He also had a political career as Mayor of Dunedin during the depression. During his tenure he ensured that unemployed men were given useful work widening roads rather than clipping weeds for the dole. Lloyd profited by learning useful political lessons which he later used in University and community life.
His mother, Winifred, was an artist with an interest in music.
He was an indifferent student at Otago Boys High. However he excelled at the Otago Medical School, graduating with a distinction and sixth in his class in 1942. He was awarded the Batchelor Memorial Medal (for highest mark in oral assessment for O&G), the Marjory McCallum Medal (for highest mark in clinical medicine) and the Senior Clinical Medicine Prize.
Following residency training at Dunedin Hospital he was awarded a two year Scholarship in 1946, with the first six months at the Royal Women's Hospital in Melbourne. He met midwife, Margaret "Brownie" McKecknie, and after a short courtship, became engaged before leaving for further medical training in London.
U.K. Period
In 1947 the remaining 18 months of Scholarship were spent at the Soho and Samaritan Women's Hospitals.
Whilst training he gained his FRCS (1947) and MRCOG (1948).
He moved to the Liverpool Maternity Hospital to continue training. Brownie arrived in 1949 to work as a nursing sister at the Liverpool Children's Hospital until they married in 1950. At this stage he was an Academic Consultant having established significant research on placental function, breech delivery and pre-eclampsia.
When he left Liverpool in 1952 one of his referees, Sir Norman Jeffcoate, a very influential O&G academic and author of the universally used student textbook "Principles of Gynaecology" wrote in his reference "Mr Cox is the most outstanding of our younger gynaecologists in Liverpool. He has a varied practical and academic experience and a zeal for work combined with a quiet and ever pleasant and helpful disposition. His technical skill and clinical acumen are of a high order and with it he preserves an interest in research and teaching".
New Zealand Period Two
Returning to New Zealand he was appointed Visiting Specialist at Dunedin Hospital and Senior Lecturer at Otago University. Despite a busy work schedule as one of only two obstetric consultants, he established the Dunedin Hospital Infertility Clinic in 1955.
By 1954 he and Brownie had two children, Diana and David.
To further his academic career and, allegedly to have more time with his family and a quieter life, he applied for the Foundation Chair of O&G at Adelaide University. He had not expected to be successful, and had recently purchased a new home in Dunedin and a much sought-after vehicle in 1958 in NZ, a new Holden.
Adelaide Period
Arriving in September 1958 he encountered some hostility from O&G staff at the RAH and QVH, as they had championed their own local candidate and were not happy with the University choice. They also suggested that he should be appointed as a Registrar for a year rather than as Consultant. For this reason, and because the opportunities he was promised were not possible at the RAH, he chose the new Queen Elizabeth Maternity Hospital in the unfinished Queen Elizabeth Hospital to be the site of the new O&G Department. At that time the Adelaide Medical School had appointed only one other professor (Norrie Robson).
A quieter life did not eventuate as over the next 25 years he was at the forefront of clinical, legal and organisational development in Adelaide.
In addition to teaching the majority of the O&G medical course, he became involved in the administration of the University and was influential in State Policy on Reproductive Technology, Family Planning and Abortion.
He achieved the following milestones:
Chair (1981-1982) of the Committee appointed to examine and report on Abortion Notification in South Australia.
Chair of the Maternal Mortality committee, originally founded in 1961 to conduct confidential enquiries into all maternal deaths in South Australia. The Committee proposed legislation to decriminalise abortion with Lloyd playing a prominent role in bringing it to fruition. Attorney General Robin Millhouse introduced a private members bill and Lloyd appeared before a Select Committee that examined the bill. He was commended for his professional contribution. With the passing of this bill which required two doctors to be signatories for termination of pregnancy, deaths from criminal abortion quickly ceased and safe termination of pregnancy became a reality.
He was also a member of the Perinatal Mortality Subcommittee to review perinatal deaths.
These Committees were replaced by the Maternal, Perinatal and Infant Mortality Committee in 1985.
He chaired the Committee that advised State Government on the development of the Reproductive Technology Act and became the inaugural Chair of The South Australian Council on Reproductive Technology. This Council developed codes of Ethical, Clinical and Research Practice for reproductive technology which broke new ground in Australia.
He was appointed Dean of the Faculty of Medicine (1963-1965) and also chaired the Education Committee having a major influence on student education and training.
He was National President of the Family Planning Association of Australia and a leadership role in the Family Planning Association of SA (now Shine SA).
He was President (1975-1978) of the Australian Council of the RCOG and was influential in tactfully separating from the long term relationship with the parent UK body to form the RACOG. He became inaugural president in 1978-1979 and was delighted, when, 20 years later, the amalgamated Royal Australian and New Zealand College of O&G was formed.
He had an innate surgical ability but wide ranging interest in gynaecology, being elected the Inaugural President of the Society of Psychosomatic Obstetrics and Gynaecology. He co-authored a book "Gynaecology, Sex and Psyche" with Lorraine Dennerstein, Graham Burrows and Carl Wood.
In recognition of his extensive research interests he had a senior role in the National Health and Medical Research Council.
He was a member of the Universities Commission on Medical Schools and successfully promoted Adelaide's need for a new medical School.
He was appointed a Member of The Order of Australia in 1981 for services to Women's Health.
Historical Landmarks of University of Adelaide Department of Obstetrics and Gynaecology:
1958 - Lloyd Cox appointed Foundation Professor O&G Department University of Adelaide.
1962 - Ron Cox appointed as biochemist. First O&G department to appoint a scientist.
1963 - Aileen Connon appointed Reader.
1963 - Lloyd Cox elected as Dean of medicine.
1967 - Malcolm Symonds appointed Reader.
1969 - Bob Seamark succeeds Ron Cox.
1970's - First Donor Sperm Program established.
1971 - Colin Matthews appointed to academic department following a short term as Resident Obstetrician.
1971 - First frozen semen bank in Australia and first sperm donor program established.
1971 - Arnold Gillespie appointed Reader at QVH, RAH.
1973 - Graham Andersen appointed Senior Lecturer at QVH, RAH.
1973 - Department establishes a presence at RAH
1974 - Ossie Petrucco and John Kerin appointed Senior Lecturer QEH, QVH
1977 - Alastair MacLennan appointed Senior Lecturer at QVH (completed MD in the Department).
Soon after his arrival in Adelaide in 1958, Lloyd Cox recruited academic clinicians to the Department of O&G, who complemented the efforts of Leslie Poidevin, a Reader in the Department. Over the next several years Aileen Connon, Malcolm Symonds, Colin Matthews, Arnold Gillespie, Graham Andersen, Ossie Petrucco and Alastair MacLennan were added to the team. Visiting clinicians at the QEH Queen Victoria and RAH also contributed significantly to the teaching and clinical work of the department.
Pathological and Cytological services were the province of Ruth Osmond and James Kirkland who set up the State wide Cervical Screening Programme. Margaret Stanley commenced the Cytogenetics Service and Robert Cox succeeded by Bob Seamark established world class endocrine laboratories. Progesterone assays became a standard investigation.
Lloyd considered that the primary vision for the Department should be to have a close relationship between science and medicine. In keeping with this concept an organic chemist, Ron Cox, was tasked with establishing an endocrine laboratory, the first such appointment of any university O&G department. His successor Bob Seamark, with a background in agriculture and animal science, encouraged the relationship between clinicians and scientists by commencing varied conjoint projects. The first of these projects, based on his experience with freezing animal sperm, was to establish, with Colin Matthews a frozen semen bank at the QEH. This was the first in Australia and led to providing a donor semen service to treat infertile males. Lloyd had to use all his tact and guile to persuade the hospital administrator that such a venture was well within the province of a public hospital. So that Ossie Petrucco could carry out animal microsurgery experiments, Bob Seamark provided the funds to purchase microsurgical instruments and animals.
With the cytopathology support Lloyd Cox was able to carry out pioneering research on cervical cancer aetiology and treatment. In the early 60's his scientific endocrine team established hormone assays for gynaecological and obstetric use and helped understand the female reproductive cycle and ovulation induction.
Successful pioneering work using human pituitary extract achieved ovulation for an-ovulatory patients. Subsequent meticulous and sensitive follow up was necessary for patients at risk of developing Creutzfeldt-Jacob Disease. Lloyd's contribution to fertility research and practice then became of paramount importance.
John Kerin was sent to Edinburgh to work with David Baird and, back in Adelaide, with Lou Warnes and Bob Seamark, was able to commence IVF treatment resulting in the second IVF pregnancy in 1981.
Ossie Petrucco had sabbatical leave at the Hammersmith Hospital in London to work with Sir Robert Winston to perfect microsurgical and endoscopic techniques for pelvic surgery.
Colin Matthews' pioneering work with semen freezing quickly led to establishing an andrology service and having the first Andrology Conference in Adelaide.
These projects led to many National and International clinicians and scientists to visit the QEH for collaborative work. Most notable were Sir Robert Edwards, Mont Liggins, Georgeanna and Howard Seegar Jones, Chuck Hendricks, David Baird, Alan Trounson, and Dennis Davey.
Per Olof Janson was the first of several clinicians from Sweden to come and spend sabbatical time in Adelaide, followed in later years by Matts Branstrom who pioneered uterine transplantation.
The Reproductive Medicine Unit established at the QEH by Lloyd became, after his retirement, "Repromed", a University Company which provided both an excellent clinical service and a clinical platform for research and funding for post-doctoral students. Lloyd was one of its first Directors.
The department was responsible for training a generation of gynaecologists who excelled in their specialty and they all recognise the significant input that Lloyd Cox had in their achievements.
Retirement
The University of Adelaide held an International Scientific Meeting at the Adelaide Medical School to commemorate Lloyd Cox's retirement in 1984 after 26 years of service. Over 150 scientists from Australia, New Zealand, UK and Sweden attended the 3 day conference on Current Progress in Reproductive Medicine. Lloyd summarised the previous 30 years by noting that control over most aspects of reproduction had been achieved.
Control for women not wanting conception was coupled to improvement in treatment for those who do and vastly improved chances of survival of babies during pregnancy and after delivery.
Always a visionary, Lloyd predicted that the future would bring better detection of congenital abnormalities and, via genetic engineering, the eventual prevention of congenital anomalies.
This prediction has proved correct as currently embryology laboratories are able, with gene splicing, to correct genetic defects in embryos before implantation.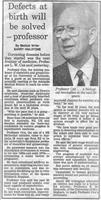 His daughter, Dr Diana Cox, confirmed that Lloyd's hope of a quieter life in Adelaide did not eventuate, but he did manage time for other interests, particularly tennis on a Saturday afternoon which continued long after retirement with a group of non-medical friends, and water skiing with the family and friends on the Murray River for many years. In his retirement he also dusted off his golf clubs and joined the Royal Adelaide Golf Club where he continued to play until three weeks before his death, by then suffering from Alzheimer's, his scoring was poor but he always added strokes rather than forget to count them and get a better score!
Contributions from David Cox at Eulogy
Lloyd learnt some useful political lessons from his father and occasionally he instructed me in his techniques. The one he used to find particularly effective on University committees was "If you want somebody to do something, make them think it was their idea". This he achieved simply by saying "as you suggested earlier in the meeting...". "You can achieve much more if you let someone else get the credit" he used to say.
I can remember him attaching particular significance to the point of celebration to the acquisition of three particular roles: as Dean of the Medical faculty, Chairman of the Education Committee and as a Member of the Universities Commission Committee on Medical Schools. I suspect because of the opportunity they offered in various measure to pursue particular objectives or thwart the forces of intransigence.
To ensure Adelaide would get a new medical school he instructed his medical school student daughter to ensure that her classmates made the old place look as overcrowded as possible on the day appointed for the committee's inspection.
While going through his papers we found this statement circulated by him seeking support on the occasion of his last election to the University Council:

"In times of financial stringency, the need for fostering community links between the general public, the professions, and the University is vital. Governing bodies can act formally, but individuals may generate enthusiasm both publicly and privately. Having had a wide experience of promoting initiatives within the University and outside of it, I believe I can continue useful service to the University in the present restrictive situation."

Lloyd's chosen specialty of necessity led him into controversial areas of public policy as Human Reproductive technology is inseparable from moral questions, and his working life spanned a period when there were great advances in these technologies and also major changes in society. Things that are taken for granted today, like access to family planning required a concerted effort by him in the 1960's.
One of the strands of Lloyd's research has been the treatment of infertility and developing IVF techniques, knowing that each advance was surrounded by ethical and political controversy. This was a difficult area with techniques advancing rapidly and the likelihood that excessive regulation would stifle beneficial developments. In one of his more pointed comments reported in the media Lloyd said "a politician trying to draft legal guidelines would be taking a lot on himself". It is important to remember that the starting point for legislation in South Australia was to ensure that IVF children were treated as legitimate under law.
Lloyd spent much of the early part of his retirement chairing the Reproductive Technology Council advising on the complex regulatory and ethical issues and ensuring adherence to appropriate clinical practices by IVF programs around Australia. One of his personal rewards for these efforts was two grandsons conceived in Adelaide using IVF techniques.
In the mid 1980's he foresaw the opportunity and the challenges to use IVF techniques to reduce the risk of hereditary conditions and the use of stem cells for therapeutic purposes. It is these issues that are at the cutting edge of research and ethical debate today.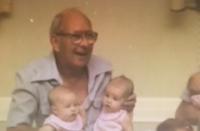 Contributions from Dr.John Svigos AM at Eulogy.
My esteemed mentor and respected colleague known to us all as "Prof." who, on arrival in Adelaide, very quickly established a first class department at the Queen Elizabeth Hospital, much to the consternation of the Adelaide Obstetric establishment which at that time was centred at the Queen Victoria and RAH.
To complement the academic staff he had a solid group of visiting Clinicians including Dudley Byrne, Tassie Aitken, John Skipper, Ron McIntosh at the RAH and Frank Welch, Roland Beard, Karl Ball and Robert Munday at the QEH, where the first Resident Obstetrician, Heather Ross, also had an appointment.
Through his department in the 1960's passed a generation of registrars who went on to make their own impact in the specialty. Including Jack O'Loughlin (past President RACOG - completed his MS in the Department), Ross Sweet (Vice President RACOG), Ossie Petrucco, John Miller, Karl Texler, Ken Rollond, Brenton Mollison, Geoff Hasenohr and succeeding Resident Obstetricians Harvey Radden, Michael Martin and Brian Pridmore.
As young registrars in the 1970's myself, John Kerin (who completed PhD in the department), Basil Antonas, Margaret Davy, Don Cave, Simon Rattray, Brian Wheatley, John Bowditch, David Morris, Ron Hopkins, Keith Edmonds, Terry Broome, Michael McEvoy, Clive Brooks and Christine Kirby were not only taught the art of Obstetrics and Gynaecology by Prof and his senior staff but were privileged to interact with the numerous visitors who chose to take their sabbaticals at the QEH.
During these exciting times as registrars we quickly learnt to survive the long gynaecological ward rounds on ward 6B in which we were quizzed on every patient and expected to be aware of up to the last minute developments.
As is common to all far sighted and worldly people, Prof had an innate ability to get to the heart of a problem, determine almost instantly, the resolve strategy and then insert himself into the political position to ensure the problem would be overcome, before handing over the position of power for others to continue his vision.
During his illustrious career there are many stories we could recount but perhaps the most telling one for me occurred recently. I was assigned to take Prof to hear Jack O'Loughlin deliver the Queen Victoria Oration on the subject of Maternal Mortality. After the Oration a small group of friends went to dinner and Jack went into graphic detail on the modern day process of consensus on decision making. As was our custom of old we turned to Prof for his opinion and, after a short pause, and fairly long peer down those very famous spectacles, he rather chillingly replied "I always thought a committee of more than one spelt trouble" and finished with his characteristic intimidatory laugh and malevolent smile - there he was still at it at 81 years of age!
So here we are today to honour a man we all respect and admire and in conclusion might I be permitted to say "If the measure of the might of a man is the lasting influence he leaves behind, there can be no doubt that Prof was indeed a mighty man".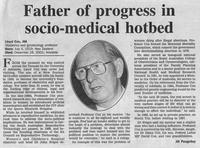 -o0o-