Sir Douglas Mawson and the Far East Antarctic Journey
1911/1914
ACKNOWLEDGEMENTS
We are most grateful to Associate Professor Brian Brophy, FRACS, for his presentation to the Society in August, 2018, on the legendary antarctic explorer, Sir Douglas Mawson. Prof Brophy is a well respected neurosurgeon in Adelaide, and was a Medical Officer at Mawson Station in 1973.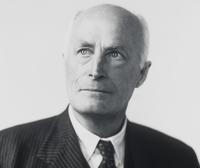 It is difficult to walk around this precinct without sensing the presence of Sir Douglas Mawson. John Dowie's bronze sculpture is just along North Terrace in front of the University. Within the University we have the Mawson Laboratories, completed in 1953; and the Mawson Institute is just behind the SA Museum (which exhibits the Australian Polar Collections, formerly known as the Mawson Collection), where Mark Pharaoh is the Senior Collections Manager.
The 1911-1914 Australian Antarctic Expedition (AAE) was almost fatal for Mawson, and it was fatal for the pair that accompanied him on the Far Eastern Journey. In examining this journey I will start by giving some detail of Mawson's early life; we will see how the AAE came about, and then spend time on the death of Mertz.
Mawson came to Australia from Yorkshire in 1884 at the age of 2 with his parents and his elder brother. He attended Fort Street Model School and Sydney University where he studied Mining and Metallurgical Engineering. Guided by Edgeworth David (Professor of Geology at Sydney University) his interest changed to Geology. After graduation he undertook a survey in the New Hebrides, and then in 1904 commenced work at the University of Adelaide as Lecturer in Mineralogy and Petrology under Professor Walter Howchin. Mawson would later take over this Chair in 1921.
In 1907, while working in the Broken Hill area, he learnt that his mentor Edgeworth David was to go South with Shackelton (British Antarctic Expedition 1907-1909; Nimrod). Mawson hurried down to Adelaide in the hope of meeting Shackelton when his ship passed through Adelaide. Mawson had studied the effects of glaciation in the outback of South Australia and wanted to see glaciation firsthand. He was appointed physicist to the expedition, and he and David sailed in January 1908 (BAE). During their year in Antarctica they would be the first to climb Mt Erebus and man haul to the area of the Magnetic Pole. They would return heroes.
Mawson resumed his teaching, and at the end of 1909 he obtained leave from the University to travel to Europe and interact with his British colleagues. En route he learnt that Edgeworth David had been invited by Scott to nominate someone for his upcoming attempt on the Pole (Terra Nova,1910-1913). David had been instrumental in getting Australian financial support for Scott's expedition. Mawson cabled Scott to arrange a meeting to discuss Antarctic matters. He was unaware that David had already nominated him to join Scott's Expedition. At the meeting, Scott assumed that Mawson wanted to enlist. Mawson, however, wanted to discuss exploring the area west of Cape Adare; the large unexplored territory below Australia. Scott could not accommodate Mawson's plan. He tried to persuade Mawson to give up his idea, and even offered Mawson a place on the Pole Party. Fortunately Mawson was not persuaded.
Mawson then decided to mount his own expedition. He turned to Shackelton for advice. Shackelton initially indicated he would lead the expedition emphasizing his ability to raise the necessary funds. He would subsequently withdraw. Through 1910 and 1911 Mawson sought support in Australia. The aims of his expedition were both scientific and commercial; whaling was expanding rapidly in Antarctic waters. But there was also a nationalistic element.
With funds secured, the ship SY Aurora was acquired. When she sailed from Cardiff at the end of July 1911 on board, amongst a lot of equipment, were 49 Greenland Huskies and 2 individuals, namely Belgrave Ninnis and Xavier Mertz, who would be major players in the ill fated Far Eastern journey. Ninnis was a young British Army Officer. Mertz, a champion skier and mountaineer, was scion of a well-known Swiss family. The two would become close friends and jointly cared for the dogs. The expedition would be unique in that it would have radio communication with Australia via a relay on Macquarie Island. They had little success with this equipment in 1912, but more success in 1913. The expedition left Hobart on the 2nd of December 1911.
The site chosen for their base at Cape Denison unfortunately was a place of high winds and access to the plateau was via a steep slope. The plan was for several journeys from the base in the Spring, and a second base was established to the west (led by Frank Wild, an experienced Antarctic expeditioner). The main party, known as The Far Eastern Party, would use 17 dogs and 3 sleds and Mawson would be accompanied by Ninnis and Mertz.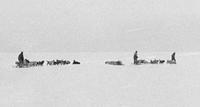 A depot had been laid in August with difficulty, and they departed on November 10th, 1912. Travel was difficult across rough and heavily crevassed terrain. By Dec 13th they had travelled 300 miles and 2 days earlier Mawson had reorganized the sleds. Initially they had 3 sleds but as provisions were used they were able to reduce that to 2. Mawson had put the best dogs and most of the food on the second sled with Ninnis. Mawson not unreasonably thought that if a crevasse lid gave way then his sled and the poorer dogs and non-essential equipment would be lost.
The catastrophe occurred on the Dec 14th, 311 miles from base. Mawson recorded that he crossed a crevasse and called back to warn Ninnis. Ninnis altered course to cross the crevasse at right angles. Mawson had crossed tangentially which was regarded as more dangerous. Mawson also rode across on his sled whereas Ninnis jogged along side and this may have been relevant in breaching the lid of the crevasse. Mawson next noticed Mertz who was well ahead on skis. He had stopped and was looking back. Mawson turned and there was no sign of Ninnis and his team. He had disappeared down a crevasse with the best dogs, most of the food and a lot of essential equipment. To their horror Ninnis was gone. He was 23 years old. Nothing could be seen other than a dog about 150 feet down.
Distressed at the loss of Ninnis they were confronted with a difficult situation. Mawson thought that they still had a chance to reach base but they would have to eat the dogs. Mawson did consider heading to the coast but dismissed this as being too long and the route to the coast too difficult. The coast of course offered the prospect of plenty of seals and penguins, but the sea ice, which would have provided easy travel, was probably gone. On the return journey, dog after dog gave out and was eaten. The dog liver was eagerly anticipated as it was easily digested.
Both suffered dramatic skin desquamation, and by the end of December Mertz was unwell. He would die on the 8th of January, 1913. His final short illness was characterized by nausea, lethargy, diarrhea, delusions and fits. As I said, skin desquamation was prominent. In 1913, Mawson discussed Mertz's illness with Mclean and they concluded that he had died from Colitis. Over the years and following many discussions Mawson changed his diagnosis to peritonitis from a ruptured appendix. Mawson was also in poor shape, and 3 days later would discover that the complete soles of his feet had separated. Mawson buried Mertz in his sleeping bag and cut down his sled and reduced his load to absolute essentials.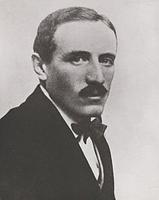 He attached a rope between himself and the sled. While crossing Mertz Glacier, Mawson plunged through the lid of a crevasse. Remarkably his sled did not follow and somehow he managed to extricate himself. It was in 1913, via radio contact, that the King gave permission for this feature to be so named.
Mawson would eventually reach base on the 9th of February, 1913, after the departure of the relief ship, and had to spend another year in Antarctica. A slow convalescence followed. In fact he subsequently stated that he was in such poor health that he doubted he would have survived the boat trip home.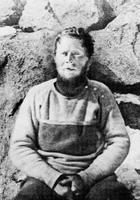 The Vitamin A story
It is likely that Mawson and Mertz suffered the effects of excess intake of Vitamin A. And that Vitamin A was the main cause of Mertz's death.
Cleland and Southcott, (Sir John Cleland, pathologist, retired 1948 and Ronald Vernon Southcott, medical zoologist and long serving Chairman of the Museum) were the first to propose hypervitaminosis A as the likely cause in 1969, and we now know that Husky dogs store large quantities of Vitamin A in their livers. In their article they refer to both Nansen and Amundsen. They stated that Nansen was likely to be familiar with the Eskimo taboo regarding polar bear liver now known to be rich in Vitamin A. Nansen and Johansen certainly ate a lot of polar bear meat on their long journey after leaving the Fram and remained well. They did eat small amounts of dog and there is a puzzling account of feasting on a bearded seal. This seal's liver is known to contain toxic levels of Vitamin A. Nansen in his book "Farthest North" describes the same episode twice. In one he indicates they feasted on the seal including the liver and in the second account he omits any mention of the liver. They remained well.
Amundsen killed a large number of dogs when he reached the top of the Axel Heiberg Glacier en route to the pole. He does not record what they did with the livers but it is assumed they were fed to the remaining dogs.
David Shearman in an article in the BMJ in 1978 agreed with Cleland and Southcott, and by this stage the vitamin content of the livers of various animals had been determined. Toxic levels of Vitamin A were found in husky livers in 1971 (1 million iu/100gm). I should mention that the term "vitamin" was used for the first time in 1912 and Vitamin A was discovered in Cod Liver oil in 1915.
David Shearman's paper triggered a questioning letter from a Dr Brown who had wintered in the Antarctic and proclaimed that his favourite breakfast was seal liver. Clearly he was eating Weddel seal liver which we now know to be safe. Why a number of Arctic carnivores including polar bear and bearded seals, as well as Husky dogs, store toxic levels of Vitamin A in their livers is not known but is thought to be a necessary adaptation to the diet they necessarily exposed to. Related species on the continent do not store the same toxic levels.
Others have suggested that Vitamin C may have been the culprit, but none of the other parties suffered any significant health problems. The long time Director of the Antarctic Division Philip Law did not believe the Vitamin A story, and told new recruits in 1962 that in an emergency they should eat the dogs especially the livers. This was passed on to me by Des Lugg the Medical Director for many years. The dogs were removed from Australian bases in the 1990's under an agreement reached by signatories to the Antarctic Treaty.
Mawson would return to the Antarctic with the British Australian and New Zealand Antarctic Research Expedition (BANZARE) expedition (1929 to 1931) again to shore up British claims to this zone. Britain would cede it's claims in Antarctica to Australia in the 1930's.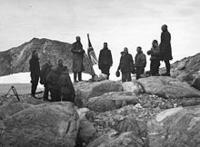 I visited Cape Bruce in 1973, one of the sites at which Mawson raised the British flag, and read the proclamation which was still clearly visible more than 40 years later. I travelled over the sea ice with dogs in a memorable journey.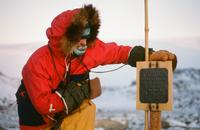 Mawson went on to an illustrious career. He remained a strong advocate for Antarctic issues and was a major driver in the establishment of our 3 Antarctic Bases. He died in 1958.
-o0o-