Justin Herbert Miller
Acknowledgements:
We are most grateful to his daughter Josephine Wolf, vascular surgeons Michael Berce and Spero Raptis, Andrew Cook from the University of Adelaide, and Stephanie Hellmann from the Heritage Office of the Royal Adelaide Hospital who provided relevant information and photographs.
After a brief period as a clerk he enrolled in the Royal Australian Air Force as a fighter pilot and flew Kittyhawks in New Guinea and the South Pacific (1942-1945). He also spent a short period in England flying from aircraft carriers.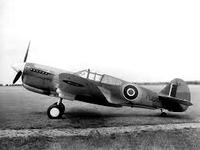 During the post war period the Australian Government made it possible for returned servicemen to enter University courses free of charge, and Justin enrolled in the medical course at the University of Adelaide.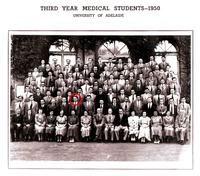 As usual, the first year after graduation in 1953 is spent as an intern at a major teaching hospital. It was at this stage that Justin decided to specialise in surgery. It was common in those times to gain a surgical degree and experience in England and then to return to Australia as a Fellow of the Royal College of Surgeons (FRCS), to a Senior Registrar post and study further to gain a FRACS (Fellowship of the Royal Australasian College of Surgeons).
Justin Miller returned from the UK in 1963 and became a Senior Registrar to Professor R. P. Jepson, a foundation Professor of surgery who specialised in vascular surgery.
Early in his time in Adelaide he saved the life of Rodney Fox, a diver, who was severely injured by a shark. He is gratefully mentioned in Fox's book about his experience.
Professor Jepson retired from the University in 1968 but continued his interest in vascular surgery. The hospital board established a position of Honorary visiting Vascular Surgeon and an Assistant post. These were filled by Professor Jepson and Justin Miller in 1969. After Professor Jepson retired Justin Miller headed the unit Until 1990.
In those days it was customary for heads of units to retire at the age of sixty, but Justin remained with the unit for several more years. He was respected, a role model for many, and responsible for initiating many new vascular surgeons during his time.
He was dedicated to his work, but was also a keen wind surfer and liked sailing, riding his bicycle and even took up snow skiing later in life.
He liked to test new ideas, and when intravascular oxygen was suggested as a possible means of improving ischaemic limbs in the 1960's, he purchased a German oxygen machine. This however was not very effective. He published lot of his work and presented his results in national and international meetings.
At meetings he was a popular speaker and admired for his presentations. He presented his results and also his failures, and speculated on what were the causes of the latter.
One noted vascular surgeon commented that when he was in difficulties he thought "what would Justin do?".
One of Justin's contributions to vascular surgery was the "Miller Cuff". The most common blockage in leg arteries is a narrowing of the artery between the groin and the knee. An ingenious way to by-pass this is a femoro-popliteal by-pass using a vein from the patients leg on the same side. If this is not available, or it has been used previously, the vascular surgeon can use a PTFE tube (polytetrafluoroethylene or Gore-Tex graft) as a substitute for the vein. After a time proliferation of the vascular lining (neo-intimal hyperplasia) can narrow the junction between the graft and native artery. Justin Miller found that insertion of a small vein cuff between them might prevent this narrowing and reduce the chance of graft blockage.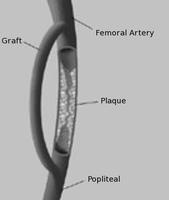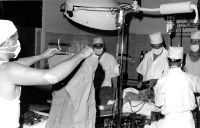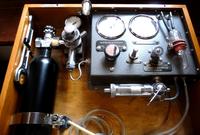 Final words by vascular surgeon and friend, Michael Berce.
Justin Miller was one of Adelaide's pioneer vascular surgeons — the first to practice full time as a Vascular Surgeon rather than a General Surgeon with an interest in Vascular Surgery. He was a mentor to all the subsequent surgeons who followed his path to full time Vascular Surgery, providing them with encouragement and generous support, always trying to bring out the best in his young protégés.

At the same time he was always interested in honesty and a frank discussion of all outcomes — good and bad. He was ahead of his time with respect to self-audit and outcome data collection, which he was never afraid to present at clinical meetings anywhere in the world — even the bad results.

He was continuously inventive, always trialling new techniques, which is how he developed the Miller Cuff still used worldwide today.

With his earthy sense of humour he entertained all who worked with him from his fellow consultants to interns, nursing staff and the medical student whose task it always was to find Mr Miller's famous black bag wherever it was left behind on ward rounds.

Justin was a tireless worker, if not in the operating theatre at any hour of the day or night, otherwise in front of the computer entering and analysing data, yet he still found time to spend with his lovely wife Jan and children Josie and Hugh with whom he was very close.

With his sudden death aged 65, Adelaide lost a visionary pioneer, much loved and respected by all who worked with him.
-o0o-