Richard Sanders Rogers
(Dec. 1861 - Mar. 1942)
BA (Adel) 1882, MB ChM (Edin) 1887, MD (Edin) 1893,
MD (Adel) 1897, MA (Adel) 1897, DSc (Adel) 1936
Adelaide Polymath, Physician and Accomplished Orchidologist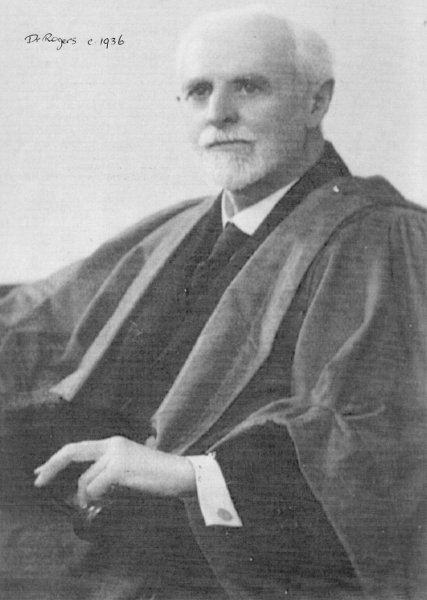 DR. ROGERS DURING RETIREMENT IN 1936

PRESENTED TO THE SAMHS BY DR. W. S. LAWSON IN MARCH 2012.
Richard Rogers, the son of a contractor/mason from Lyndoch S.A., distinguished himself as a scholar while attending the Pulteney Street School in 1879. He became the first public school boy to matriculate, with Greek as a supplementary subject, which earned him a scholarship to the University of Adelaide. Intent on a career in medicine, he gained a BA ((Hons 1st Class) Adel. 1882) at the age of 20, enabling his admission to the highly acclaimed University of Edinburgh medical school. (The University of Adelaide in 1883 approved the establishment of a medical school, but its first students would not be admitted until March 1885.)
Richard graduated MB ChM (Edin.) in 1887. On August 3rd of that year he married a Scot lass, Jane Scott Paterson and returned home with his wife to commence general practice in Adelaide. Their home, with surgery attached, was strategically located in Flinders Street, East Adelaide, a fashionable enclave within easy reach of the Adelaide Hospital. Rogers achieved an important step upwards in his medical career by gaining appointment as an Honorary Physician to the Adelaide Hospital in 1897. He served as a member of the hospital Board from 1896-1922, the initial two or three years of which were marred by a period of turbulence for the Board and its members.
Among other notable achievements, he was appointed Superintendent & Visiting Psychiatrist to Enfield Receiving House, and to the Northfield Mental Hospital; also as Consulting Psychiatrist to all Mental Institutions (1929-1942). He was a member of the state Medical Board from 1910-1940, and appointed President (1932-1938). Dr Rogers submitted papers to the South Australian Government on public health issues, including the health of school children and a report titled A Medical Survey of the Feeble Minded in South Australia. The University nominated him as Lecturer in Forensic Science (to medical students).
He occupied positions on numerous public institutions including the Museum, the Public Library, and the Art Gallery of S.A. He had brief military service in South Africa in 1901. During World War I (1914-1918) he was appointed as the Medical Superintendent, 7th Australian Base Hospital, Keswick Barracks, SA, with the rank of Lieutenant Colonel.
Dr Rogers was well respected by his patients, whom he treated with care and compassion; his skill as a diagnostician was enhanced by his early clinical training.
In modernised countries where the Listerian principles of hygiene and antisepsis were adopted, major improvements in the outcomes of surgical and obstetric treatment resulted. However, in the early 20th century, the efficiency of treatment for many diseases seen in general practice was limited by the availability of suitable drugs. This detracted from the outcome in the most common childhood infectious diseases, and in many of the metabolic and endocrine disorders at all ages.
Within a year of the discovery of X-rays by Röentgen in Germany in 1895, Dr Rogers had introduced the new equipment to Adelaide. Refinements, essential in the safe use of X-ray equipment as a medical tool, had yet to come. The Advertiser (November 7, 1896) reported on a public demonstration of this early equipment, given by Dr. Rogers in the presence of Professor William Bragg. (Further details on the Bragg discoveries and their Nobel Prize award can be accessed on this website here.)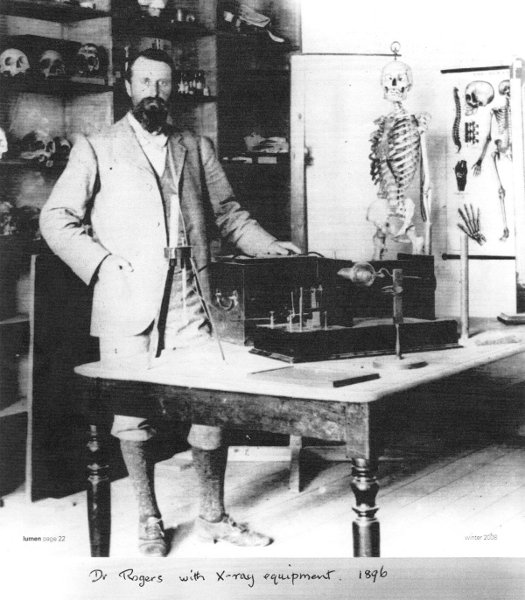 DR. ROGERS IN ADELAIDE (1896) WITH SOME OF THE X-RAY EQUIPMENT WHICH HE USED

In 1893, Dr. Rogers' interest in hypnosis arose as a possible useful adjunct to his methods of treatment. The method has been practiced by the German Physician, F. A. Mesmer in the 18th century. Biographer Joyce Gibberd, Australian Dictionary of Biography 1988, gave her endorsement in Dr. Rogers' use of hypnosis: "His private practice flourished and he was a notable exponent of mesmeric art from 1894; in 1903-06 he demonstrated his mental telepathy and hypnotic powers to literary societies saying: 'The hypnotism I practised was scientific, not an exhibition of the black arts'. He had fine brown piercing eyes and a hypnotist's gentle voice".
Furthermore, in 1895 The Advertiser reported that Dr Rogers "successfully removed a cyst from the breast of a young woman while acting as both a surgeon and hypnotist while she was awake and talking to assistants and witnesses standing nearby". (Presumably all the observers had a genuine professional interest in this performance.) He remained attuned academically during his practice of medicine, gaining MD Edin. 1893, MA Adel. 1897, and MD Adel. 1897. Forty-one years later in 1938, he became a Foundation Fellow of the Royal Australasian College of Physicians.
Early in the 20th century, Richard became intensely interested in native orchids as a hobby; meanwhile he continued his practice in medicine. Lured no doubt by the delicacy and diversity of orchids, he and his wife Jean searched wherever orchids were likely to grow. They took frequent trips to the Adelaide Hills to collect specimens; they examined, described and learnt how to cultivate them. Highly motivated, they travelled interstate widely, and beyond to PNG and NZ, collecting and reporting their discoveries to botanical authorities, orchid lovers, and other interested parties.
In 1906, Richard had his first paper on Orchids published in the Transactions of the Royal Society of South Australia, Vol 30, page 225. He was credited with the discovery of 85 new species, many subsequently named for him and/or his wife Jean. Elected Fellow of the Royal Society of SA, he served as its President from 1920-1922. He maintained a prolific input to the international scientific literature on Orchids. In 1924, Dr. Rogers was elected Fellow of the Linnean Society of London for the many contributions he made on orchids and their taxonomy.
Some orchids reported by Dr. Rogers: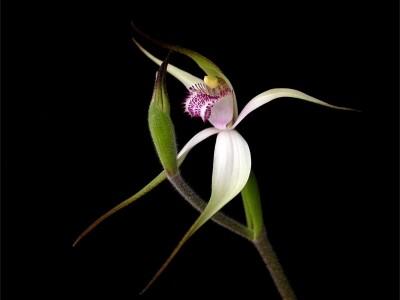 CALADENIA TENTACULATA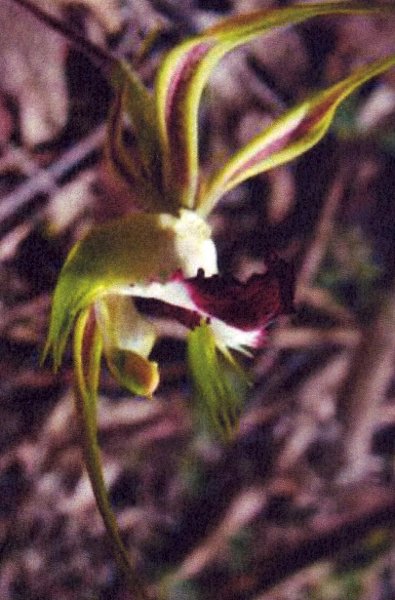 CALADENIA RIGIDA

He can be credited with an enduring personal quotation relating to the morphology and identification of Orchids, made as an acknowledged specialist on the subject:

If you recognise the column and labellum, you will have gained the 'orchid eye'.
An 'Orchid Shed' was erected by orchid lovers in the grounds of the Adelaide Botanic Garden on North Terrace, dedicated posthumously to the memory of him.
The University of Adelaide honoured him with the award, DSc (Adel. 1936).
Appreciation is expressed to the University of Adelaide on behalf of the South Australian Medical Heritage Society for permission to use photographs published in its Winter 2008 edition of 'Lumen', and to the Botany Department for supplying illustrations of two specimens of orchid discovered by Rogers, used in the text.
[Footnote: The author through his aunt, Mrs Emma Hannah Forrest née Lawson b. 1877, claims a tenuous connection with Dr. Richard Rogers. Emma Forrest was employed by Dr. Rogers as a nurse/secretary between 1915 and 1940 at his consulting rooms in Flinders Street. Mrs Forrest always spoke kindly about Dr. Rogers. During the late 1930's she periodically retrieved envelopes with attached postage stamps bearing the doctor's typewritten name and address, which she gave to her nephew (WSL). The stamps were salvaged and added to his philately album. Dr. Rogers died on the 28th of March, 1942, probably unaware of this innocent subterfuge.]

W. S. Lawson
24 May 2012
-o0o-