Dr Antonín (Tony) Hynek Slavotínek
Note:
In recognition of his long and invaluable service to the Society, Dr Slavotinek has been the Patron since 2018.
Tony was born on the 20th July, 1933 in Vsetín, Moravia (now the Czech Republic). He was the only child of Hynek Slavotinek and Josepha Sula who first met in Vienna, Austria. Hynek was a general medical practitioner in the Sudetenland and Brno and had acted as a police doctor to treat prisoners. Josepha had been a teacher by profession.
A native speaker of the Czech language, Tony was exposed to German, English and Russian in Brno. When the second world war began, the family moved to Hradec Králové and Tony became proficient in German when Czechoslovakia was under German occupation. Toward the end of hostilities, Tony had to adapt to the Russian occupation and began to learn the language. At the end of WW2, Tony's father (who had become involved in the anti-communist resistance) applied for a short-term job in Karlsbad. After a short stint in jail and release to home for 24 hours had been negotiated by Josepha, the family crossed the border into American-controlled Germany as refugees with what they could carry.
The Slavotinek family were amongst the many refugees from war-torn Europe who arrived in Australia after 1945 and were initially sent to the Bonegilla camp near Albury. Arrangements were made for Tony to board with the Rosenfeldt family and to complete high school with the Christian Brothers to whom he was most grateful for his education. Within a year Tony had become proficient enough in English to perform exceptionally and received an "exhibition", or scholarship, that provided financial assistance toward his studies in medicine at the University of Sydney. Around this time, Tony adopted his father's name as his middle name Hynek. Unfortunately, his father's medical qualifications were not deemed sufficient for medical practice in Australia and, consequently, father and son came to study and graduate together at the same university in 1956 and 1957, respectively.
On graduation, Hynek Slavotinek took up medical practice in Cassilis which is a small town about 30 km from the legendary Black Stump in New South Wales. Tony first worked for about 2 years at St George's Hospital in Sydney and then completed a year in Adelaide at the RAH where he met and later married Mariane Urban who was completing her intern year after graduating from The University of Adelaide. Mariane (Marzy) had come from Vienna with her parents who were both medically qualified, although her mother studied and, subsequently, practised dentistry in Australia. Once married, they raised funds by doing country locums before travelling to London where Tony studied for his English Fellowship over a period of 2-3 years. Their children are also medically qualified with John who is a Professor of Radiology, Flinders Medical Centre and Flinders University in Adelaide and Anne who is a clinical genetics Professor in the Pediatric School of Medicine, UCSF (USA)
While overseas, having attained his specialist qualification before many of his peers, Tony became aware of a position at the Royal Adelaide Hospital (RAH) where he became a Senior Registrar in Surgery in 1963. During this time, he was involved with General Surgery, including orthopaedics, and shortly after his return from England he gained the Australian Fellowship. He was appointed as a lecturer in Experimental Surgery with Professor Jepson and pursued an academic career initially at the RAH and, subsequently, at the Queen Elizabeth Hospital (TQEH) where he held the position of Senior Lecturer. Throughout his career he was known for his energy, clinical insight, love of teaching, dedication to patients and sense of humour. He was a key component of the renal transplantation surgical team in its early years and provided advice for many years after its establishment. Tony's surgical interests were wide-ranging but his particular research and clinical interest was in pancreatic surgery and he performed the first pancreatic transplant at TQEH. In his latter years, Tony became Head of the Division of Surgery at TQEH.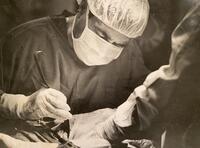 On retirement from TQEH in 1998, Tony provided locum surgical services to hospitals in the Port Pirie, Port Augusta and Whyalla region. He also examined international Medical Graduates for the Australian Medical Council for many years. During this time, he further developed his great interest in medical history and found opportunity to promote the interests of the South Australian Medical Heritage Society. Tony helped develop the website and virtual museum with Bernard Vaughan, Michael Patkin and Alex Sims. The Society's objectives are stated on the web-site (samhs.org.au) and Tony has been a prolific contributor to the photographs and descriptions of historical events, instruments and extra-ordinary individuals recorded therein. His enthusiasm and energy have seen the Society evolve into a significant, inclusive group drawn from a wide range of experiences and professions. As our Patron, Tony has been an inspirational leader in honouring the achievements and advancements in health care provision in South Australia.
-o0o-