Professor Emeritus Anders Gustaf Wangel (1934-2013)
Cmdr. Order of the Lion of Finland, 1991; MB BS MD (Adelaide) Med. Lic. Docent (Helsinki) DPhil (Oxon) FRCP FRACP
Three doctorates by thesis in specialties involving Immunology, Haematology and Gastroenterology.
Acknowledgements:
We are most grateful to Anders Wangel's wife, Denise Wangel (nee Norton), for her insights, photographs, and help in writing this article.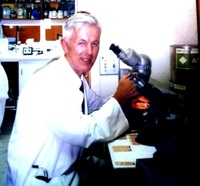 Anders was born in Helsinki in 1934. His parents were Gustaf Adolf Wangel, a neurologist, and Rita Sibelius, a neurologist and a violinist.
Anders' grandfather was Christian Sibelius (1869-1922), a neurologist, psychiatrist, amateur cellist and brother of the composer Jean Sibelius.
During World War II both parents were doctors and were needed in Helsinki. Anders and his sister lived for a year with Hilda, the family maid, on an island on the mid-west coast Finland. The house was 100 years old, and of log construction. They covered the floor with newspapers and mats to insulate the house against the harsh winter cold. There was no running water or electricity.
When Russia came closer, the children were sent to comparative safety in Stockholm to live with their parents' medical friends. Even in later life, Anders remembered being given ice-cream in the kitchen (unheard of in wartime Finland) when adult friends arrived in fine evening clothes for dinner (while war continued in Europe).
As a cellist, during his youth Anders played chamber music with his mother, the composer's daughter Margareta, and sometimes her daughter Salu.
Anders' family would often visit Jean Sibelius at his Järvenpää home to bring him ducks they had shot, and to discuss music with the aged composer. Anders inherited his father's cello.
Later, when in studying at Adelaide University, Anders was invited to be a reserve cellist with the Adelaide Symphony Orchestra. When Finnish conductor and sailing enthusiast Okko Kamu visited Australia, he became a good friend and a guest of Anders.
After the war, when the children were young, the family spent three months each summer on their island on the mid-west coast of Finland. They travelled by train from Helsinki, taking with them their maid Hilda, hens in cages, and other things necessary to sustain life on an isolated island without electricity or running water. A wood stove and local wood was used for heating.
Anders met his wife Denise Norton in 1952 after the 15th Olympic Games in Helsinki. Denise was a middle distance swimmer and a member of the Australian swimming team.
Anders and his family were sailing their boat Vision and Denise was on another keel boat owned by Hans Ahlstrom, owner of the Ittala glass company. Because of a crew injury, Anders and Denise spent the whole day sailing together on the Vision. They were devastated when the boats parted and they had to say goodbye. They corresponded for four years before marrying in 1956.
Anders agreed to come to Australia, and completed both Australian and Finnish Medical courses and continued his contacts and research with his Finnish colleagues. In 1963 he received a Nuffield scholarship to Oxford (Christ Church) and completed his D.Phil there in 1968. During the Oxford years, the family visited Jean Sibelius' widow Aino at her home in Järvenpää, a great honour for the Finns.
In 1968, aged 33, he was appointed the Michell Professor of Medicine at the new and exciting The Queen Elizabeth Hospital in Adelaide.
Sailing was always an important part of his life. He won the 420 class world championship in 1973, and was South Australian Champion (International 470 Class) in 1976 and 1977.
In 1993, aged 59, Anders was cycling to a University Faculty meeting at night when he ran into the back of an unlit parked tray-top utility. He sustained concussion and facial fractures. The treatment was successful but complicated by a cerebrovascular episode which impaired his communication skills, and he relinquished his chair.
Anders continued to play his cello in the Burnside and Australian Doctors' Orchestra.
This PDF (~450 KB) contains images of Professor Wangel, his family, and more information about his life, and was created with the assistance of his wife, Denise Norton.
-o0o-