Allan Edward Chadwick 13 /10 /1907 —29 / 6 / 1972
pilot for the Bush Church Aid Society (BCAS)
in Ceduna, South Australia
Acknowledgments
We are most grateful to Dr. Robert Cooter AM MBBS FRACGP FAMA for suggesting this entry, and for providing us with excerpts of his book and also the comments and photographs which were sent to him by Dr. Merna Mueller, Joy Brann AM, and Mr. McArthur Job. We are also grateful to Alan Sedgwick, a past resident in Ceduna. Allan Chadwick's contribution to the health service by flying the doctors and nurses of the Bush Church Aid Society needs a special mention. See references at the end.

Thanks also to Neil Follett, Editor of "Australian Heritage", the journal of the Aviation Historical Society of Australia, for corrections to the names of the planes. He also provided us with an article written by Macarthur Job, OAM., added as an appendix.
BACKGROUND
The name Ceduna may well have its origin in an aboriginal word "Cheedoona", "a place to rest". The earliest visitors were the Dutch (Pieter Nuyts, 1627). In the early nineteenth century (1802) the area was visited by Matthew Flinders during his circumnavigation, and by Nicholas Baudin who named the bay of Ceduna Murat Bay, after one of Napoleon's Marshals, and Cape Thevenard after a French Admiral. Denial Bay was named by Flinders (1802). It was originally a supply port and is now a small settlement known for fishing and shellfish.
The first effective settlement is ascribed to William McKenzie in 1889. There were attempts to grow wheat and the scrub was cleared using manual labour. McKenzie employed nearly 30 hands and became involved in shipping, haulage and provisions. Over time the centre of activity moved from Denial Bay to Thevenard but eventually Ceduna became the main township and was proclaimed as such in 1901. The name "Murat Bay" however persisted for some time longer. Currently Ceduna is the third largest port in South Australia and exports cereals, livestock and minerals. Some are rare and even unique to Ceduna, such as Zircon.
The original population was small and the heath services then were non-existent apart from those provided by the residents themselves. Some were recognised as bonesetters, others could suture or treat wounds or use medicinal preparations. After an increase in population and a tragic death of a shearer cook, which could possibly have been avoided, nurses were provided, and finally several doctors became resident. They were supported by contributions from the residents and supervised by the Farmers Medical Society (FMS). The private contributions ranged from 1 to 3 Pounds per year.
The Bush Church Aid Society (BCAS) became involved in 1925. It opened the first hospital, provided medical staff and extended its services to outlying areas such as Cook, Tarcoola and Penong. It became the major health provider and caused the dissolution of the FMS.
Further changes occurred in 1934 when Drs. Roy and Freda Gibson arrived. They were successful in lobbying for a new bigger hospital and a pilot to serve outlying areas. All these activities were not possible without good will and financial support from the Bush Church Aid Society. Dr.Verna Mueller arrived in 1951 initially as locum after Roy Gibson died from snake bite. She stayed and Drs Gibson, Mueller and the nursing staff provided reliable and excellent medical services until 1968. The important role of Allan Chadwick as the Bush Church Aid pilot requires a separate entry.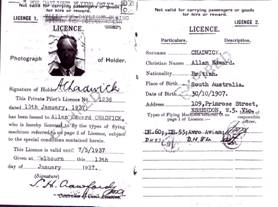 Allan Chadwick's pilot licence in 1937 (above) qualifying him to fly the aeroplanes indicated on the bottom right of his licence. (DH60; DH53; AVRO AVIAN; DH83; and DH84). He took delivery of a De Havilland Fox Moth in 1938 and flew it from Sydney to Ceduna
Allan Chadwick was born in South Australia but in the 1930s, lived in Melbourne, and attended the St..John's and St. Thomas's churches in Malvern and Essendon. He was an accomplished organist. He also worked at the Essendon  airport. When the .BCAS advertised for a pilot he applied for and was awarded the post. He obtained his first qualification as a pilot in 1936, and increased his competency to fly more aircraft in 1937. He loved Ceduna and was noted for playing the church organ. He had a reputation for safety and his small safety delays may have saved many lives. His flying of the many different aeroplanes was legendary. The navigation then was basic and depended on recognising features such as salt pans, rocks, roads and railways.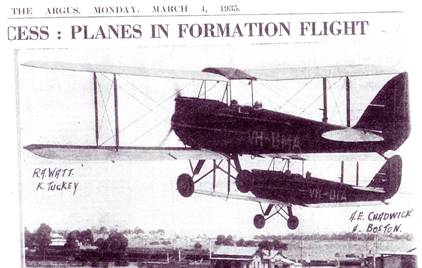 Two Gipsy Moth aircraft flying at Essenden Flying School on March 4 1935. The pilot is at the rear. AE Chadwick is accompanied by H Boston, RA Watt is accompanied by K Tuckey.
A modified Fox-Moth was a single engine bi-plane, which could seat three persons and cruised at 85 mph. A stretcher could be carried in an emergency.
In the first year of operation of the Fox Moth, Allan Chadwick flew a distance of 15,000 miles, the flying time was 200 hours and 800 patients were treated. The Fox Moth was in active service until 1947 when it was replaced by a DH 84 Dragon. The Moth was transferred to Kyancutta and used by a doctor, also a pilot, from Wudinna Hospital.
The following photographs represent the later aircraft used at Ceduna by the BCAS at Ceduna.
They were kindly provided by Dr. Mueller.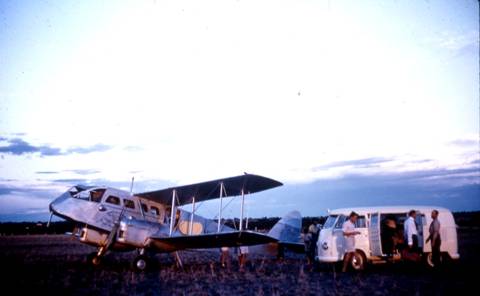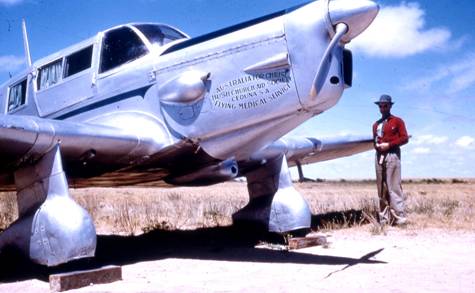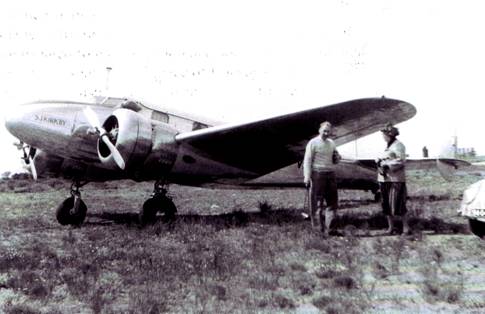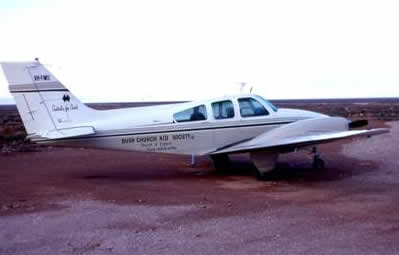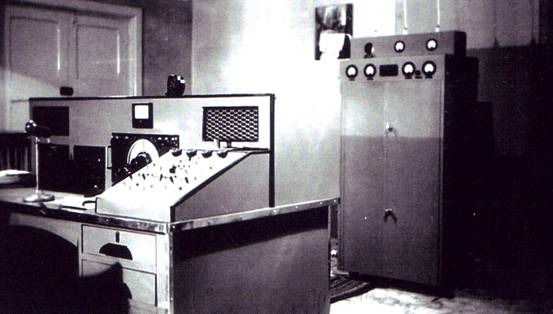 Later in his career Chadwick also took part in communications, the photograph shows him in the Ceduna radio room, and radio room layout.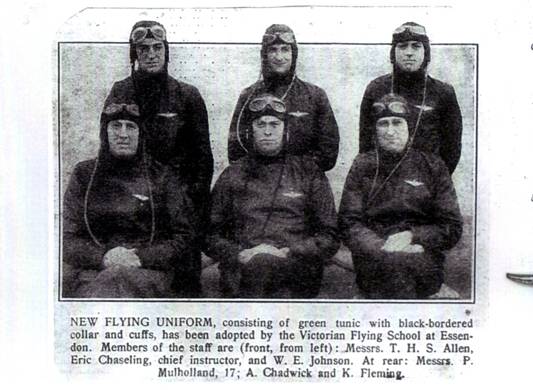 The following photographs have been copied from a CD kindly provided by Dr Mueller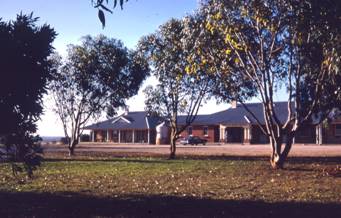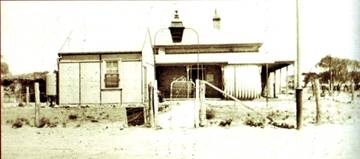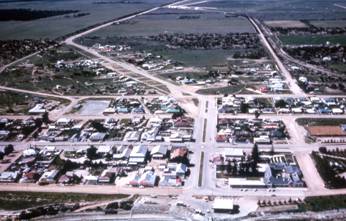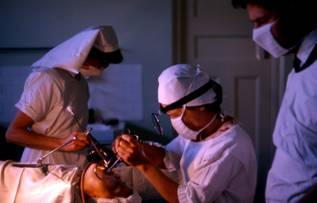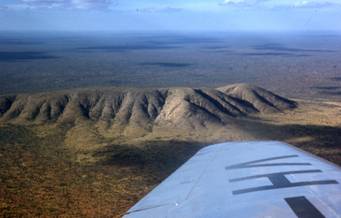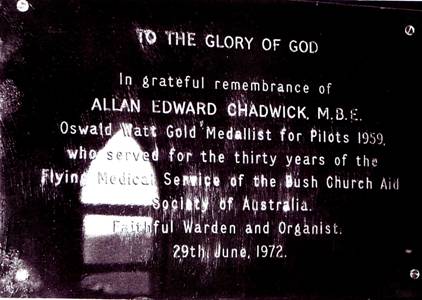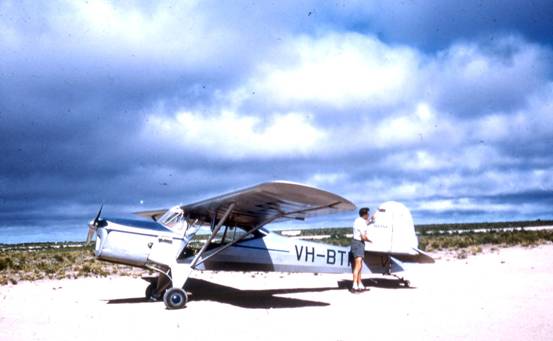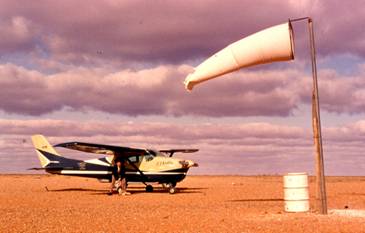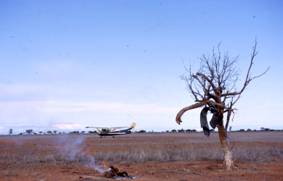 Information about aeroplanes and BCAS activities after arrival of Dr. Mueller in 1951
1951
Doctor Merna Mueller joined the Ceduan Staff
1953
Radio Control Station opened at Ceduna – VKB Ceduna
Operator - Mr George Cameron
Radio Tranceivers established in the hospitals and outback station properties
1954
Percival Proctor 3 VH BOR purchased, and Fox Moth VH-GAS sold
Mr. Mac Job joined staff as pilot
1955
Tarcoola: New Tarcoola District Hospital built and opened
Staff: Sisters Vera Holle & Marjorie Tarr
1956
Lockheed 12A VH-BHH purchased (Later VII-FMS)
DH84 and Proctor aircraft sold.
Mr Gordon Taylor joined staff as pilot
1959
Oswald Watt Memorial Medal: Awarded to Allan Chadwick, for safety in Flying
1960
Lockheed 12A damaged and sold
Cessna 210 VH_FMS purchased
1961
Mr. John Lindridge joined staff as pilot
1962
Cessna 210 VH-AEC purchased
1965
Coober Pedy Medical Centre built and opened
Staff: Sisters Vaisey Cochrane & Heather Heaver
1966
Bechcraft Baron aircraft FH-FMS purchased
The two Cessna 210s sold
1967
Flying medical Service work terminated from Ceduna and taken over by Royal Flying Doctor Servied – Port Augusta Base. Beechcraft VH-FMS in January, and the Radio Network in February.
1970
Allan Chadwick awarded MBE in Queen's New Year's Honours List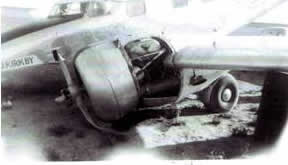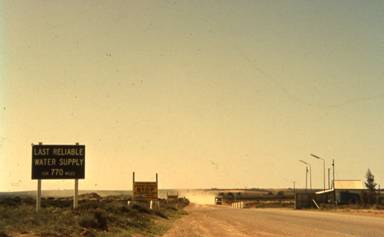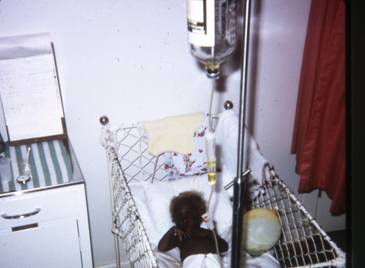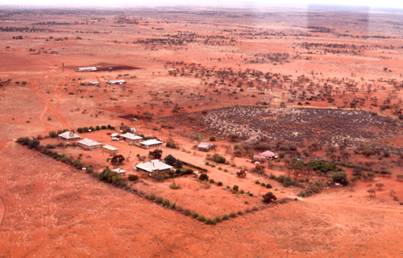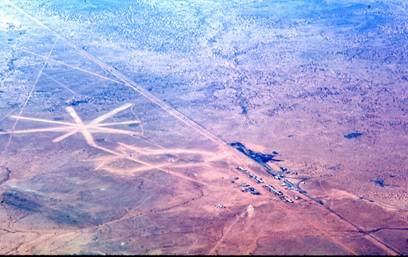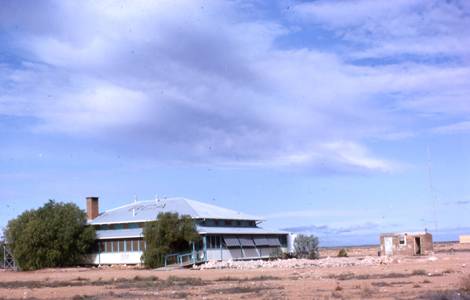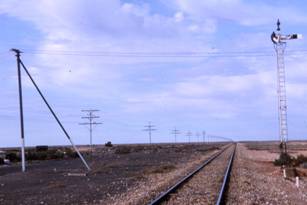 Appendix
ALAN EDWARD CHADWICK 1959.
By Macarthur Job, OAM.
...for his work as chief pilot for the Bush Church Aid Society's Flying Medical Service at Ceduna, South Australia...
A new bush nursing hospital at Cook on the transcontinental railway, midway between Port Augusta and Kalgoorlie, was the logical extension of the Anglican Church's outback medical work in South Australia in 1937. But for the nearest doctor, Ceduna's Dr. Roy Gibson, to regularly cover the enormous distance to Cook by car over the Nullarbor Plain's stony tracks was a barely possible task.
Australia's aerial medical network that had begun only nine years earlier at Cloncurry in Queensland was continuing to develop. The new Flying Doctor Service Base at Broken Hill was now operational, and the Commonwealth Government had just ordered a DH-83 Fox Moth for the legendary Dr. Clyde Fenton at Katherine, NT, a work that would eventually become the Department of Health's Northern Territory Aerial Medical Service.
The well-proven Fox Moth could carry a stretcher as well as two passengers, and the Anglican agency working in the outback, the quaintly named Bush Church Aid Society ('aid for the church in the bush'), now saw this type of aircraft as the answer to Dr. Gibson's transport problems. Its own Fox, VH-AAA, delivered in January 1938 a few weeks after Dr. Clyde Fenton's, would mark the beginnings of South Australia's extensive Flying Medical Service network that was finally incorporated into the Royal Flying Doctor Service's operations in 1968.
Confident a suitable pilot would be 'provided' for their new aircraft, the Church's board members took the sensible precaution of advertising for one. Some days later in Melbourne, Alan Chadwick, unwrapping the newspaper around the vegetables he had just brought home, happened to see their advertisement. Recently graduated from Eric Chaseling's Victorian Flying School at Essendon, and a fellow student of Arthur Lovell and Arthur Schutt, Chadwick was also a LAME. It seemed the answer to what he should do with his life.
'Chaddy' - to those who worked with him - learnt his way around the South Australian outback in helmet and goggles in the open cockpit Fox, using a school atlas because there was nothing else. It was a difficult initiation, but by his careful, systematic planning, he established a reputation for flying safety that became legendary.
An erect, unemotional, methodical and imperturbable little man, he was a perfectionist, repeatedly emphasising there was always more to learn in flying. Earning a modest 'mission salary', he was willing to do anything that furthered 'the work' – his own favourite expression. If the doctor was called out in the middle of the night, or in weather that put flying out of the question, he would turn out too, to drive long distances over dirt roads so the doctor would arrive as little fatigued as possible. Chaddy made himself useful in other ways, keeping the hospitals' equipment in order, carrying out repairs, and even chopping wood for the various bush hospitals' kitchen stoves while he waited to fly the doctor home.
Some of Chaddy's first trips were not without adventure. The first emergency to Tarcoola was to tend an injured child. A makeshift strip was hastily cleared and Chaddy was able to set the Fox down safely. But later when he paced it out, he found it not nearly long enough for a full load takeoff.
So he enlisted the aid of local men to clear another 150 metres of saltbush. When the small patient and her parents were loaded, Chaddy had the Fox man-handled to the beginning of the run, its tail in the surrounding scrub. He also posted a man beside the strip at a particular point. If the Fox was airborne by the time it passed him, well and good. If not off, there would still be room to stop before the Fox ran out of room.
Holding the aeroplane on its brakes, Chaddy opened the engine up to full power. As he released them, the Fox bounded forward, accelerating to flying speed before reaching the human marker. Chaddy breathed a sigh of relief. They were on their way – and the little patient was on the road to recovery.
After the war, the Fox was supplemented by a longer range, twin-engine ex-RAAF DH-84 Dragon, and a second pilot joined the service. The growing network was extended to include numerous station properties, the Coober Pedy Opal Fields, the AIM hospital the Rev. John Flynn had founded in 1912 at Oodnadatta, as well as other bush hospitals at Penong, Koonibba Aboriginal Mission, Tarcoola, Wudinna and later Coober Pedy. A Percival Proctor III replaced the Fox, and later still, the Dragon was replaced by a Lockheed 12A, a magnificent high performance aeroplane that slashed travelling times almost in half. Later again, the service acquired two Cessna 210s, each equipped to carry a stretcher patient, and finally a Beechcraft Baron.
Chaddy, responsible for the aircrafts' field maintenance, took great pride in each of his new charges. During his 'holidays' – taken always while an aircraft was undergoing its annual C of A inspection in Adelaide, he could not resist spending time in the workshop, his exacting demands frequently becoming the despair of the maintenance engineering staff!
In 1960, almost on the 22nd anniversary of the inaugural FMS flight, the Royal Federation of Aero Clubs announced that Alan Chadwick had been awarded their Oswald Watt Gold Medal for 1959 for "the most notable contribution to aviation".
By late 1967, it was increasingly evident to the Anglican Flying Medical Service Board that the pioneering work it had set out to do in 1937 had been achieved. The Port Augusta Base of the Royal Flying Doctor Service, established in 1955 as a radio base only, was now equipped with modern aircraft and able to cover the network the FMS had served for so long. The change would bring benefits to the people, and it was resolved that the whole FMS network would be transferred to the RFDS early in 1968.
With staff leaving for new jobs, it was to the evergreen Alan Chadwick that the honour of the final, nostalgic FMS flight fell - ferrying the one remaining aircraft, now Beech Baron VH-FMS, to its new RFDS operators in Port Augusta.
But only after taking off did the symbolism of that trip dawn upon him. Here he was, making his last FMS flight, the exact reverse of the flight in the Fox that began it all 30 years before. And now, as then, he was the pilot making it possible.
Alan Chadwick and his wife Doris retired in Ceduna where they had raised their four daughters. The last person to seek honours for himself, it was particularly fitting that his life's work was officially recognised with an MBE. There can be few MBEs more richly deserved. He died in Ceduna in 1972.
Allan Edward Chadwick was born at Wayville, South Australia on 30 October 1907.
-o0o-