Dr. Phoebe Chapple (1879 — 1967)
MM, BSc1898. MBBS1904.
A presentation by Dr Robert Cooter, 9 September 2009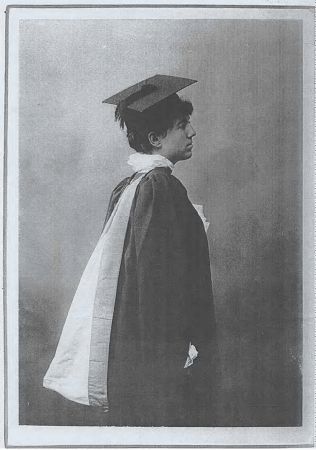 An intrepid woman medical practitioner, a feminist, of imposing stature and character, and was renowned for her dedication to Women's Health both nationally and internationally.
She was born on 31st March 1879 in Adelaide, the youngest daughter to Frederic and Elizabeth Sarah Chapple, nee Hunter.  They were both teachers in England.  Frederic studied at King's College, University of London and at Westminster College where he later taught for 5 years.
In April 1870 they married in London and had a family of 8 children – 4 daughters and 4 sons with 3 of them, Frederic John, Edith and Marian being born in England and the other 5 of them being born in Adelaide.  Frederic and Sarah migrated to South Australia in April 1876 and he accepted the position of headmaster at Prince Alfred College.  They took great pride in the excellent academic achievements of their children.
Frederic John, the oldest child, graduated with honours in medicine and surgery at Melbourne, and was resident surgeon at Rockhampton before returning to Adelaide as a medical superintendent of the Adelaide Hospital.  Dr Harold Chapple became a Harley St specialist – medical field not known.  The doings of this exceptional Victorian family were recorded, at father Chapple's own initiative continuously and in great detail in the PAC College 'Chronicle'.  The father's pride in his children must have become overpowering at times. 
Phoebe was educated at the Advanced School for Girls, later known as Adelaide Girl's High School.  She was considered to be too young to train in Medicine when she left school at the age of 16, so she did her BSc degree (1898) then commenced her MBBS course in 1900 on a scholarship and graduated in 1904, both degrees at Adelaide University.  There were only 12 students (9 male,  3 female) in the 1900 intake.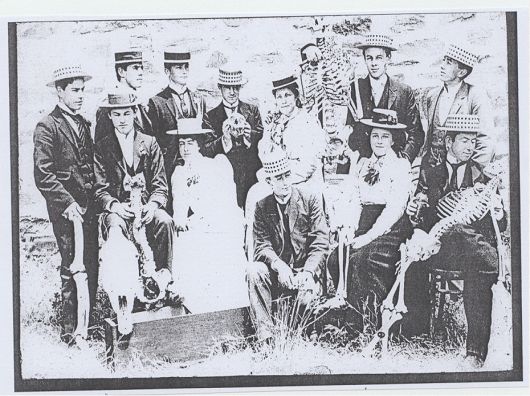 Phoebe is lady on the left
I have included this photograph of the undergraduates (1900–1904).  As you will note their dress was most distinguished and undoubtedly earnt the respect of patients and teachers.  The present day dress of students is quite varied and not identifiable. 
During her undergraduate years she was placed in the top 2 or 3 of each year and won an Elder Scholarship in one of the years.
In 1905 she was a house surgeon at the Adelaide Hospital and then worked for a time at the Sydney Medical Mission.  Until 1914 she practised from her father's school, Prince Alfred College, attending the boarders and travelling in a phaeton, her horse drawn 'Victoria' carriage, driven by a liveried coachman when visiting her patients.  She had free board and residence at the school, her coachman lived at the school and her horse and carriage were kept there free of cost.
In 1914 she tried to join the Australian Army Medical Corps, and when turned down, went to England in 1917 as the first woman doctor from Australia to go overseas in World War I, and attempted to join the Royal Army Medical Corps, but was also refused entry.  At that time it was the policy of the Australian and British Armies that no female doctors were allowed to join the frontline ranks during the Great War of 1914–1918.  She then joined with the Queen Mary's Auxiliary Army Corps.  Her first appointment was as surgeon at Cambridge Hospital, Aldershot.
In November 1917 she went to France and worked with the Women's Auxiliary Army Corps at Abbeville till August 1918, and also at Rouen and Le Havre.  She was one of a group of 10 nurses who served in France from 1917–1919.  She came under fire on many occasions and on the night of 29th May 1918 she was inspecting the women's camps, when, because of intense bombing, she and forty women sheltered in trenches.  A direct hit killed nine and several were severely injured and Phoebe saved their lives with her emergency care. 
For 'gallantry and devotion to duty'  in this episode, Dr Chapple received the rare award for a woman of the Military Medal.  She was also awarded two British campaign medals.  Like most of her contemporaries, she tolerated military conservatism but was aware that women were, in her words, 'squeezed dry like an orange' – it seemed her feministic trait was being exposed.
She returned to Australia in 1919 and resumed practice, on North Terrace, until 1937, but later moved the practice to her home in Norwood, where she continued to work until the age of 85.  Supported by the Women's Non-Party Association, Dr Chapple was narrowly defeated in the 1919 Adelaide Municipal elections.
In 1921–1922 she was honorary medical officer, night clinic (venereal diseases), for women patients at the Adelaide Hospital.
For about 30 years from 1910 she was honorary doctor at the Salvation Army maternity hospital for unmarried mothers, first at Carrington Street, Adelaide, then at McBrides Hospital, Medindie.  She was a courageous and clever obstetrician, but was jealous of her authority.  Although untiring in her work, she never involved herself in the adoption of patients'  babies or their non-medical problems.  At McBrides Maternity Hospital she was the Honorary Medical Superintendent from 1914–1929 (excluding 1916–1919 – war service years).
All the medical services she provided over the years, to the PAC students, the Sydney Medical Mission, the VD Clinic, the Salvation Army maternity hospitals, were in an honorary capacity with no pecuniary gain!
Phoebe was a co-founder and an initial vice-president of the South Australian Medical Women's Society in 1927, and later became president.  The inaugural meeting was held in 1928 and its ideals were to promote medical women in branches of medicine supporting the health of women.  The establishment of a women's hospital featured prominently in the early meetings, and correspondence and personal contact was made with founders of the Queen Victoria Hospital for Women in Melbourne.  Subsequently the early committees in SA were involved in the establishment of the Queen Victoria Hospital at Rose Park. 
During the 1930s Phoebe made six overseas trips, most of them to England and Europe.  The final trip in 1937 was of several months duration and coincided with two important medical gatherings.
The first was the conference of women doctors under the auspices of the Medical Women's International Association.  This was held at Edinburgh and Dr Chapple was the sole Australian delegate.  About 300 women from all parts of the world attended.  All papers were given in both English and French and the American women excelled in their papers on cancer and maternal mortality.
The second gathering was the annual meeting of the British Medical Association in Belfast.  It was an excellent meeting, well organised, and gave Phoebe insight into the structure of Medicine in Britain and Ireland. 
After the BMA meeting she went for a cruise to Norway, described by Phoebe as the most beautiful country in the world.  While on the continent Dr Chapple attended clinics at Berlin, Vienna and Budapest.  Budapest was looking particularly prosperous owing to the great popularity of its artificial baths for rheumatic cases, to which people were flocking from all parts of Europe.
Dr Chapple was one of the few South Australians to have a seat in Westminster Abbey for the Coronation of King George, a privilege for which she was nominated because of her war service.  Every part of the ceremony, even that of the precedence of England's nobility and of the overseas representatives, was easy to follow with the aid of an imposing book, bound in cream calf and embossed in gold with the royal coat of arms, and given to everybody in the Abbey.  "Barley sugar and cheese", was Dr Chapple's answer when asked how she survived without food for the many hours of waiting both before and after the actual ceremony.
After her return from England and Europe in October 1937 she continued practising from her home in Norwood until she was 85.  She was known as 'Auntie Doc'  by her large family whom she kept together and in touch.  She was blunt, confident, and dominating.  A tall strong woman, for years she headed the nurses units marching each Anzac day.
She died unmarried on 24th March 1967 aged 88 years, and was cremated with full military honours. 
St Ann's College, University of Adelaide, receive a bursary administered in her name, from her estate.

I offer this paper as a tribute to a tall, strong and courageous woman doctor, foremost in her profession, outstanding in her clinical work and evincing great compassion for under privileged women.
-o0o-