ELIZABETH PUDDY (NEE PREST), A.M., M.B.B.S.,Grad.Dip.Parent Education and Counselling, Grad.Dip. Family Therapy, F.A.C.E.
Acknowledgment: We are most grateful to Dr. Puddy for the photographs,
relevant information and editing.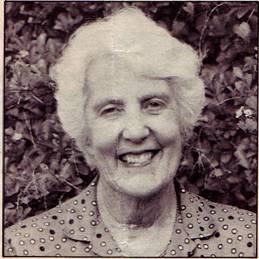 PHOTOGRAPH OF E. PUDDY PUBLISHED IN AUSTRALIAN DR.WEEKLY IN MAY 1992.

Elizabeth Puddy (nee Prest) was born in London UK in 1927 of Australian parents. The family returned to Adelaide in 1928 where her father began a lifetime of general practice combined with a specialty of anaesthesia, including an honorary appointment at the Royal Adelaide Hospital.
Their early residence with surgery and waiting room attached was in Wakefield Street, Adelaide. Elizabeth attended Walford House School at Unley and then Woodlands Church of England Girls' Grammar School at Glenelg. Part of her Leaving Honours year was spent doing Physics and Chemistry at the School of Mines in the city as few of the girls' schools taught these subjects at that level in1944. She began her medical course at the University of Adelaide in 1945 graduating in 1950 and in 1951 was an intern at the Royal Adelaide Hospital.
In 1952 Elizabeth travelled to England for a working holiday which included a three month locum in Obstetrics and Gynaecology position at St. Alfege's Hospital in Greenwich. She was moved by the number of women requiring blood transfusion antenatally because they used their meat and other coupons to supplement their children's diets.
The other significant job Elizabeth had in the UK was as a paediatric house physician in Taunton, Somerset. One of her tasks was to do exchange blood transfusions on newborn babies with haemolytic disease due to Rh incompatibility. At that time new blood groups were being discovered and blood transfusion serology was becoming increasingly complex.
At Taunton the senior paediatric consultant, who moved from Guy's Hospital in London for health reasons, was aware of the emotional needs of hospitalised children and their families. He appointed a nursing sister whose main job was to "mother" the children. He introduced unlimited visiting rights for parents including overnight sleeping and siblings were welcomed. He could be said to have been well ahead of his time.
On return to Adelaide in 1953 Elizabeth accepted a position as the first Medical Director of the fledgling Red Cross Blood Transfusion Service.
In 1954 Elizabeth met her future husband Albert Puddy, who lectured in a course she was required to attend to be commissioned as an Officer of the Royal Australian Army Medical Corps from which she was seconded to be the Medical Officer to the newly formed Royal Australian Army Nursing Corps in South Australia. The subject was "Australian Military Regulations and Orders". The examination (not set by Albert) was short and easy for her as "Medical Officer Female" which these days she may judge as a "put-down" but then thought it was a joke, especially as she obtained a 100% pass mark. They married in 1956.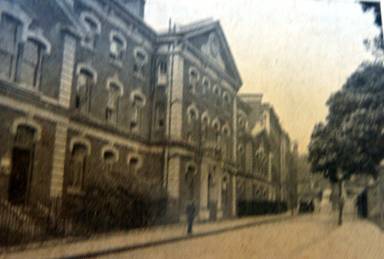 NEW END HOSPITAL IN HAMPSTEAD WHERE
ELIZABETH PREST WAS BORN IN 1927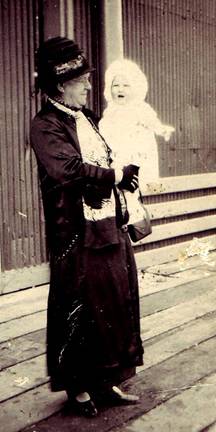 GRANDMA PREST WITH ELIZABETH AGED SEVEN MONTHS
ON THE WHARF AT OUTER HARBOUR ON ARRIVAL IN ADELAIDE


ELIZABETH PREST'S PARENTS' RESIDENCE IN
ENGLAND 1926-1927. (UPSTAIRS FLAT)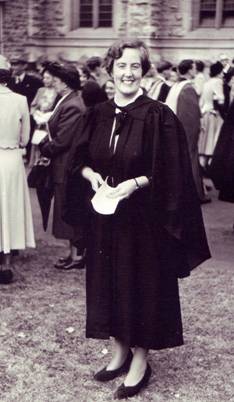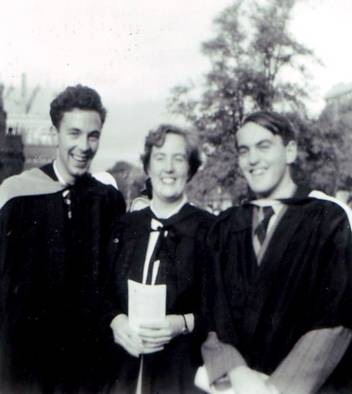 GRADUATION PHOTOGRAPHS OF DR.PREST (LEFT) AND WITH FRIENDS ROGER OPIE,
M.A., AND RICHARD RISCHBIETH, MB.BS, MARCH 1951.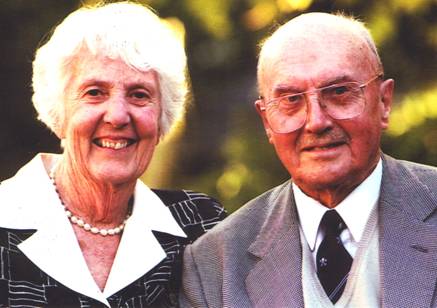 ELIZABETH PUDDY AND HER HUSBAND ALBERT
.Albert had qualified in Law in the University of Adelaide in 1935 and practised until November 1951, apart from active service in WWII from1939-1946. In1951he resigned from legal practice and thereafter embarked on a career in the family engineering business. This culminated in 15 years as Managing Director of one of its subsidiary firms, from which he retired in 1976. Military service was an important aspect of his life and was almost continuous in a paid or voluntary capacity from the time he was a cadet at school until his retirement at the age of 84 from actively working for the Employer Support for the Reserve Forces' Committee of which he was Chairman. For this work he was awarded Membership of the Order of Australia in 1993.
For the first two years of their marriage, Elizabeth and Albert lived in Perth. On their return to Adelaide, Elizabeth became involved over time in socio-emotional aspects of medicine with a particular interest in the health and welfare of infants, very young children and their families.
Two exposures which contributed to this interest were her appointment, part time, as a medical officer at St. Corantyn Psychiatric Day Hospital, (1965-1970) and a small research project with Professor Lloyd Cox (Department of Obstetrics and Gynaecology at the University of Adelaide). During the latter she interviewed a sample of women to examine the medical and emotional effects of their taking the newly introduced oral contraceptive pill developed by Margaret Sanger and George Pincus in the early 1960s. Most of the women came from lower socioeconomic levels, and their enormous relief at being freed from the fear of unwanted pregnancies and the difference it made to their general well-being, including the ability to cope with their existing families was quickly apparent. A third influence was her experience in Perth, as a first time mother learning to cope without family supports.
In those early days, in the first instance under the auspices of the then Marriage Guidance Council, Elizabeth visited schools, clubs and welfare institutions showing films and leading discussions related to the onset of puberty , to upper primary school aged girls with their mothers or care-givers. In 1965 Miss (later Dr.) V. T. Baddams, the Headmistress of her old school, Woodlands, invited her to develop a year long course, more comprehensive and relationship oriented for year 11 girls , called Social Education. This work rapidly spread to other private girls' schools, two coeducational schools and one boys' school. Elizabeth facilitated the training and support of other leaders, mainly social workers, nurses, doctors and teachers. At the same time she was a member of an Education Department Committee advising on the curriculum and training of teachers for the introduction of Health, including Sex Education, into the State Education system. She also tutored in an in-service course for that purpose at the Sturt College of Advanced Education. Elizabeth's own "hands on" involvement moved from Woodlands to Scotch College Adelaide in 1972 when that school became coeducational. She developed a General Studies course at different class levels which encompassed matters pertinent to the students' peer and family relationships and to their roles and relationships in the school, wider community and globally.
In 1977, aged 50, Elizabeth retired from the school work which was taken over by the school staff. She moved her focus to early childhood and was instrumental in the introduction of a Graduate Diploma in Parent Education and Counselling course at the Kingston College of Advanced Education, which trained Early Childhood teachers. This multi-disciplinary course in which she taught was specifically for professionals working with parents and children. It was initiated by the then Medical Director of the Mothers and Babies Health Association, Dr. Harry Edhouse a child psychiatrist who saw the need for these workers to have further training at the time, particularly in the socio-emotional aspects of child development . Elizabeth was also from 1972 –2004 involved in parent education and counselling work with parents and young children in both metropolitan and country areas. She retired from the College in 1993.
Elizabeth spent much time on Committees concerned with child health and well being. A list is appended and notably includes 30years on the governing body of the State Infant Welfare Service and its successor the Child Adolescent and Family Health Service. She was one of the founders in the mid nineties of the South Australian Association for Infant Mental Health.
As a member of the Anglican Church, Elizabeth assisted at the parish and diocesan levels with pre-marriage counselling. She helped to form policies for the diocese concerning marriage preparation, divorce and re-marriage and was also involved in the selection process of candidates for the priesthood.
In 1991 Elizabeth was admitted as a Fellow of the Australian College of Education and in 1992 she was awarded Membership of the Order of Australia.
Elizabeth and Albert have three children, Andrew, an anaesthetist and intensive care specialist, Diana, an early childhood teacher and Mark, a music teacher and choir director. Elizabeth is grateful for having had unqualified support from Albert, who may have at times been somewhat bemused, but never disapproving of her life "outside the home" and did more than his share of "keeping the home fires burning".

ADDITIONAL PHOTOGRAPHS, KINDLY SUPPLIED BY DR.PUDDY.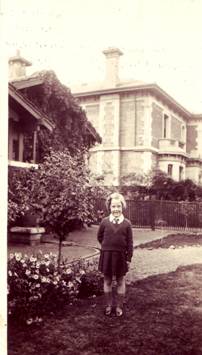 ELIZABETH IN THE GARDEN OF THE PREST FAMILY HOME IN WAKEFIELD STREET ADELAIDE CIRCA 1933.
BOTH HOUSES WERE LATER DEMOLISHED TO BUILD THE WAKFIELD STREET HOSPITAL.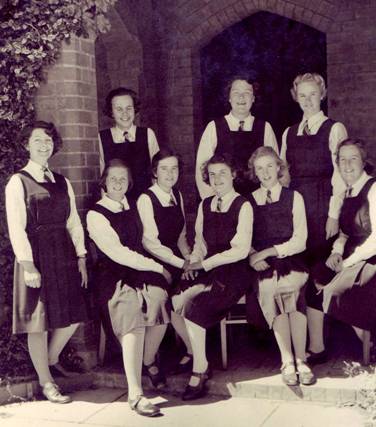 WOODLANDS SCHOOL PREFECTS 1943
ELIZABETH IN FRONT ROW EXTREME RIGHT.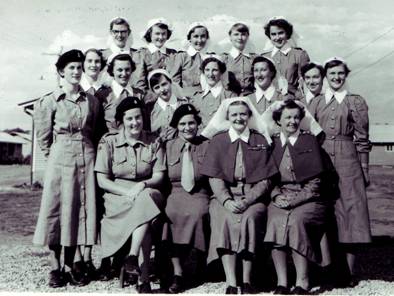 PHOTOGRAPH OF A GROUP OF MEMBERS OF THE ROYAL AUSTRALIAN ARMY NURSING CORPS:
SEATED (lt. to rt.)CAPTAIN E PREST, CAPTAIN F. PURNELL MAJOR E.I.UREN. AND CAPTAIN L.LAFFER.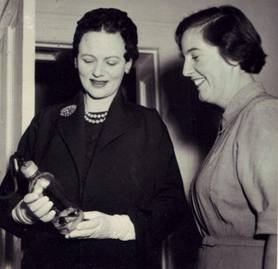 LADY GEORGE THE WIFE OF THE GOVERNOR OF SOUTH AUSTRALIA
AT THE OPENING OF THE RED CROSS BLOOD TRANSFUSION SERVICE
AT EAST TERRACE IN 1954. DR. PREST (RT.)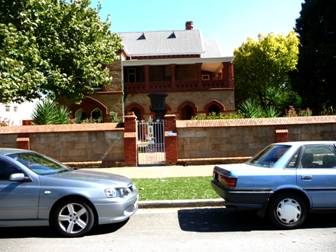 ST. CORANTYN PSYCHIATRIC DAY HOSPITAL WHERE DR.PUDDY WAS A VISITING MEDICAL OFFICER (1965-1970).
IT REVERTED TO A PRIVATE RESIDENCE IN 1993.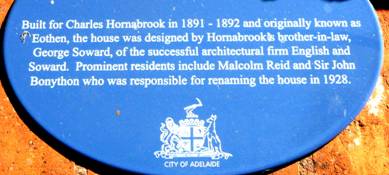 TEXT ON THE HERITAGE PLAQUE IN FRONT OF ST.CORANTYN'S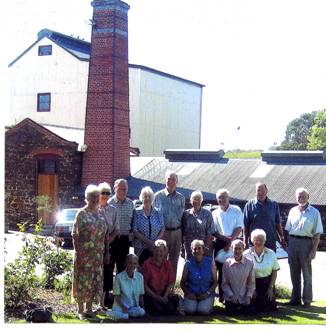 PHOTOGRAPH OF MEMBERS OF THE PREST FAMILY
TAKEN IN FRONT OF A CHIMNEY OF AN OLD FLOUR MILL IN MCLAREN VALE IN 2005.
THE MILL WAS.ONCE OWNED BY THEIR GREAT GRAND-FATHER JAMES CLARK,
WHO ARRIVED IN SOUTH AUSTRALIA IN 1839.
ELIZABETH IS STANDING FOURTH FROM THE LEFT.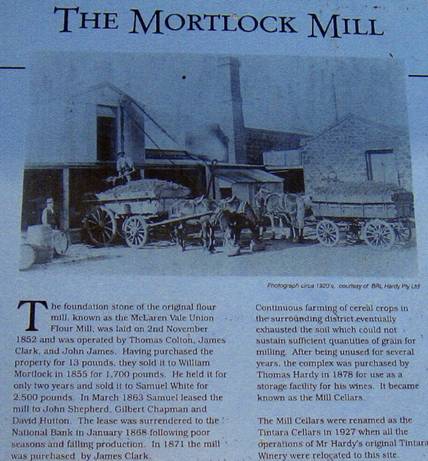 BRIEF HISTORY OF THE MILL OWNERS
APPENDIX:
Elizabeth was a member of a number of government and non-government committees, councils and boards including the following:
Kindergarten Mothers' Club
Mother' and Babies' Health Association and Child Adolescent and Family Health Service
Australian Association for Infant Mental Health, SA and National
Child Health Council of SA
Child Protection Advisory Council
National Investment for the Early Years SA
Education Department of SA Health Curriculum Advisory Committee
Family Planning Association of South Australia
Centre of Personal Encounter (COPE)
Kindergarten Teachers' Training College and Kingston College of Advanced Education
Hartley College of Advanced Education
St. Mark's College
Schools: Scotch College, Adelaide, St. Peter's Collegiate Girls' School, St. Peter's College (first woman in its 142 years' history), Pulteney Grammar School Council Education Subcommittee.
Anglican Commission concerning Divorce and Remarriage
South Australian Medical Women's Society
Australian Medical Association Committee member
Action for Children SA