Gemmel Tassie OAM, medical practitioner
ACKNOWLEDGEMENT: We are grateful to his son, John Tassie for donating Dr.Tassie's medical bag. He also provided us with personal recollections of his father and obituaries from the Advertiser and The McLaren News. We also thank Dr.Michael Read of McLaren Vale Family Practice for recent information.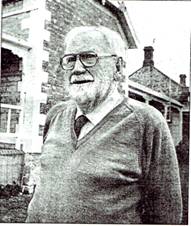 Dr Tassie (21 / 7 / 1901 to 1 /3 /2001) started his early education at St Peters College.
His ambition to study engineering did not eventuate because lack of sponsorship and he decided to study medicine at the Adelaide University.


He graduated in 1926 and started to practice medicine in the Murray Mallee. This was the time of the great depression and the community of Murrayville was severely affected. His income was minimal. He often accepted a fraction of his fee, in one instance one shilling as full settlement of his account for several pounds. Farm produce was often accepted as payment for services rendered.
The practice of medicine was primitive and his surgical instruments were usually sterilised by boiling. Unlike today he was available for 24 hours a day and his practice involved obstetrics, medicine and all branches of surgery. Dispensing was also done by the medical  practitioner, and his son washed the medicine bottles for a token reward. This was the time when the term "Doc" was a title of community respect.
In 1943, after eleven years he moved to McLaren Vale and for considerable time was the only general practitioner between the Adelaide Hills and Murray Bridge.
He was a strong supporter of the hospital at McLaren Vale, and when this was built he became the first Honorary Medical Officer of the Southern Districts War Memorial Hospital.
He was awarded the OAM in 1993 and a local park was named after him. He excelled at bowls and was a president and a long-term patron of the McLaren Vale Bowling Club. He was a member of the Australian Medical Association for 74 years, a likely record.
As the population increased, he formed a partnership with Dr.West, and later more partners joined.  Currently there are two group practices which serve a population  of about 15000. Unlike Dr. Tassie's era, an after hours phone  call states the hours of practiceand suggests that "in an emergency the patient should contact the Ambulance". However the personal touch is still present, and current patients have the telephone number of their own doctors, or can contact their doctor through an answering service
Recollections of his father by his son, John Tassie.
Gemmel Tassie graduated firm Adelaide In 1926 and in 1928 went to Murrayville as a general practitioner for 11 years - during the depression when payment was often in the form of farm produce. He often had to improvise such as the time he used a chisel from the shed to excise a mastoid with the kitchen table to operate on.
He moved to Morphett Vale in 1939 and then McLaren Vale in 1943 where he stayed until he took his shingle down in 1981. While at Morphet Vale he was the only doctor between Adelaide and Victor Harborand. as there was no local chemist. he had to dispense his own medicines etc. His son had the job of washing the medicine bottles on Mondays - laundry day- for  1 penny a bottle.
When the hospital was built at McLaren Vale he processed his own X-rays. He alai made splints and other aids for his patients.
He consulted in the surgery at the back of the  house at 9am each morning, except Sunday, to see whoever turned up. There were no appointments for the morning. He would then visit patients all around the district - from Port Willunga to Blewitt Springs and all places in between such as Yundi. Some patients would leave their keys out so he could getin to see them without getting them out of bed.
He had regular consulting hours at Willunga and Noarlunga alter lunch 2 or 3 times a week and would return to the surgery for the afternoon consult at 4pm. In the later years evening consultations were only by appointment He was on call 24 hours a day every day and had night calls. especially for mids. He was also on call for any accidents, motor or other such as shootings or fires. Annual leave was three weeks a year in January with a newly graduated doctor to do the locum.
Dr. Tassie's medical bag. (18.5 x 10 x 6 inches)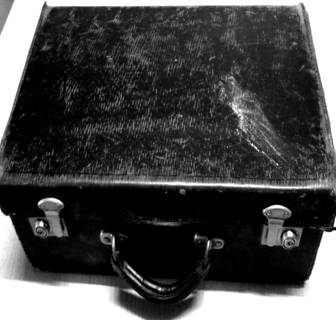 The lid has a folder for prescription pads and medical certificates
There is a space for a stethoscope and a sphygmomanometer, syringes and needles.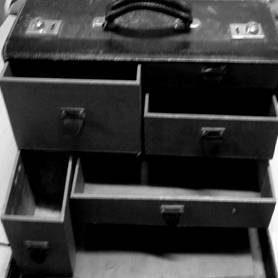 The separate drawers contain emergency drugs in ampoules and tablets, bandages and simple surgical instruments.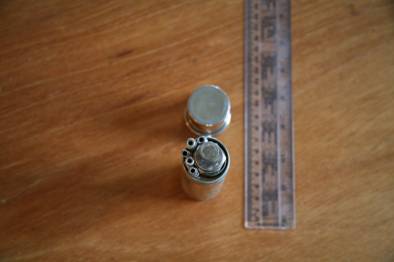 A syringe container and needles used by Dr.Tassie in the 1950s. The syringe and needles were immersed in alcohol and could be reused. Needles had to be re-sharpened.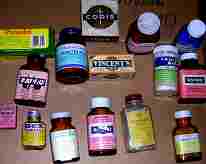 Some of the drugs which may have been prescribed by Dr.Tassie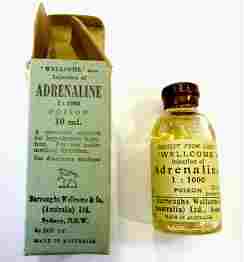 1/1000- solution of adrenaline used in allergic reactions
and for treating asthma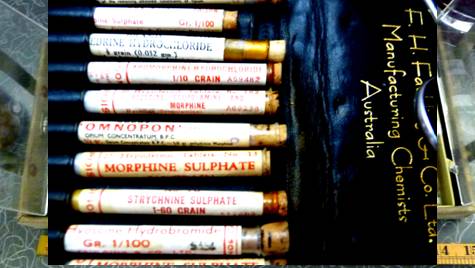 Injectable drugs were supplied in tablets,stored in glass vials. They were dissolved in saline before injection.


Tablets of morphine which were dissolved in saline and injected for severe pain

-o0o-