ACKNOWLEDGMENTS:  We are most grateful to Suzanne Twelftree for her suggestion and advice. We also thank Louise Woods the Membership Officer of Wheelchair Sports Association of SA, Kimberly Furse of Disability SA Independent Living Centre, the staff of the Hampstead Spinal Unit and Robert Adams from the Glenside Campus who allowed one of us to photograph their wheelchairs.

The first wheelchair possibly dates to 500BC. A picture on a Greek vase shows a child sitting in a chair with wheels.

The first traditional wheelchair was designed for Philip 11 in the early 1600s.  It had a footrest and enabled the king to visit and enjoy his garden pushed around by his servant. Some 60 years later a 22 year old paraplegic watchmaker developed a hand propelled chair. Similar wheelchairs were used in the spa city of Bath and were known in the UK as "Bath Chairs". A similar design by John Dawson was commonly called a "Dawson Chair".

Further developments followed: The wooden spokes were replaced by wires as in bicycle wheels. Inflatable rubber tyres became more common and the wheel arrangement changed. The smaller back wheel was replaced by two small front wheels. The large wheels were placed at the back to improve stability. The addition of push rims improved the mobility.

The advent of the motorcar led to further changes. Harry Jennings and his wheelchair-bound friend Herbert Everest developed a tubular collapsible wheel chair in the 1930s. Modern wheelchairs are based on their design. Batteries and electric motors were added later.

Today there are many models available. The chairs can be customised for particular personal use in sports such a Rugby, tennis, or basketball and even dancing. The following photographs show some of the past and present wheelchairs
A 1930s wheelchair  from the Museum on the Glenside Campus. This is propelled and steered by forward and backward movement of the handles. Photo right shows the rim calliper brake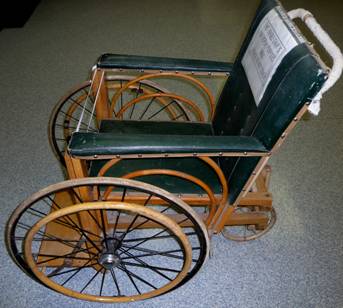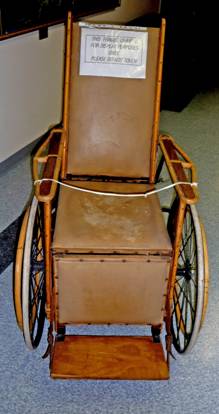 The two wheelchairs preserved at the Hampstead Spinal Unit. Probably they date from the mid 30s.      The emblem below on the back of the chair on the right represents the Glasgow firm of Crownall, the manufacturer.

After the second world war wheel chair sport, even dancing became popular and competitions such as the Paralympics became meeting sites for "Wheelies" from many countries. The exchange of ideas and design improvements were the direct result of these meetings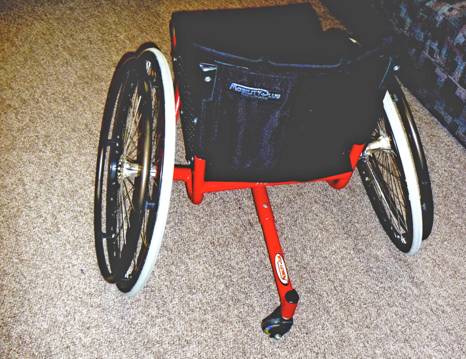 A  tennis wheelchair. Note the sloping wheels which lower the center of gravity and the increase in wheel separation to produce more stability. The extension at the back stops the player toppling backwards during serving.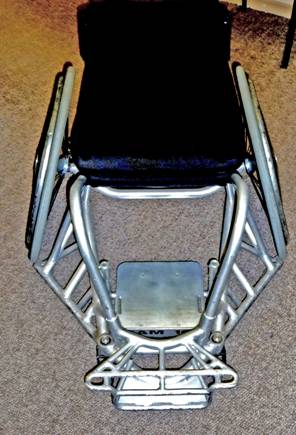 A Rugby wheelchair


Advances in technology made it possible to cater for the individual needs of the chair owners.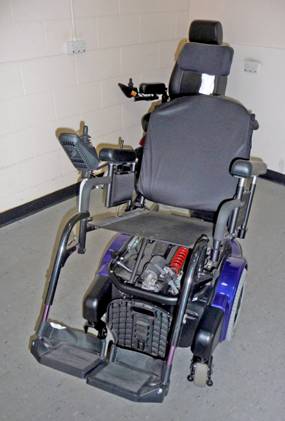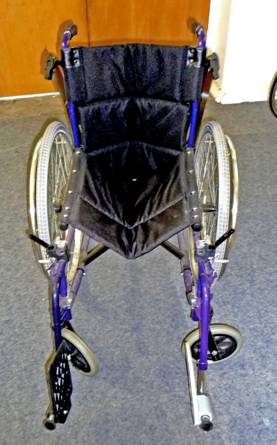 Left: A motorised wheel chair with adjustable tilt.
Right: A standard folding wheel chair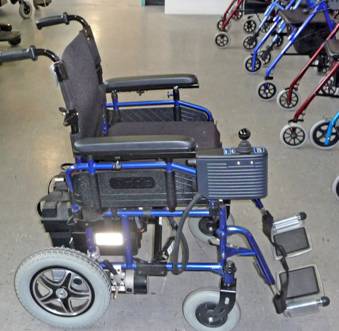 A standard battery driven electric wheelchair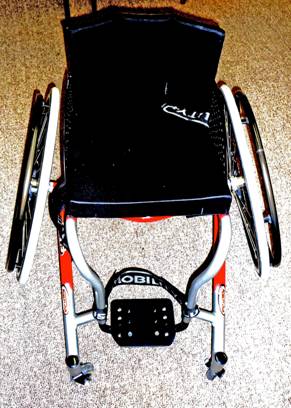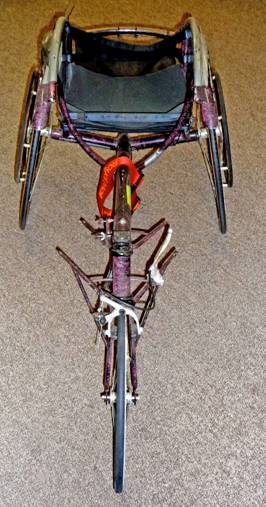 Left: Basketball wheelchair 
Right: A "Trak" wheelchair used in speed competitions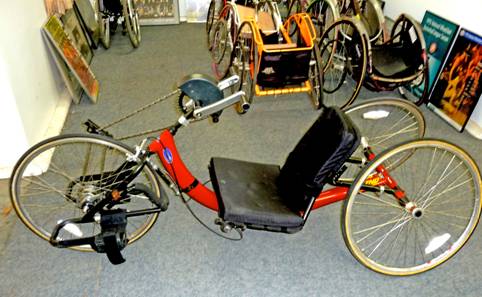 A hand operated wheelchair with other sports wheelchairs in the background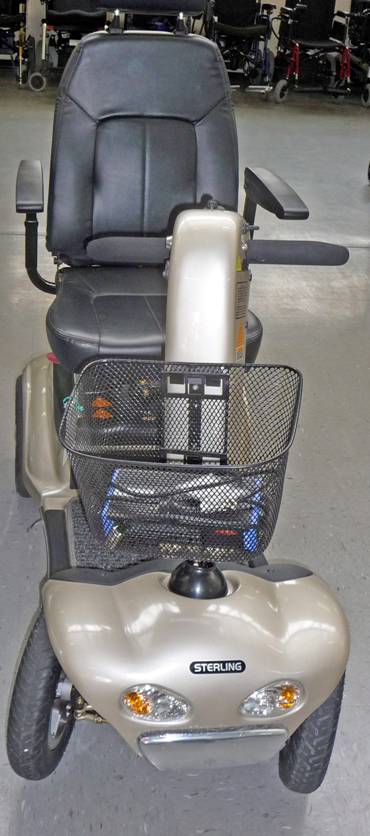 A common type of electric scooter often seen in shopping malls


In New Zealand  "Personal Mobility Systems Ltd"  has produced
a device which can   bring a wheelchair stored in the back
of a car to the front door of the driver.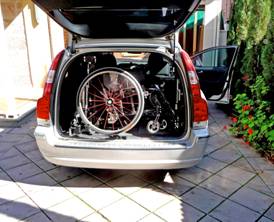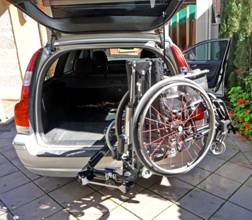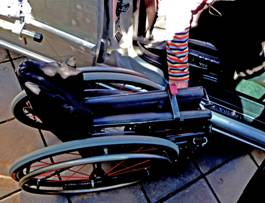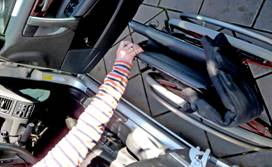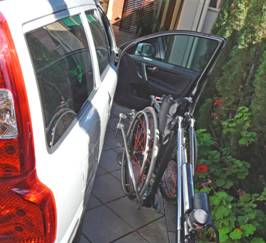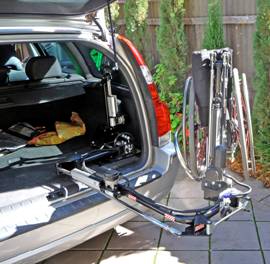 The whole procedure takes about a minute.  The mechanism then returns inside the hatchback which closes automatically

The Roman baths in the UK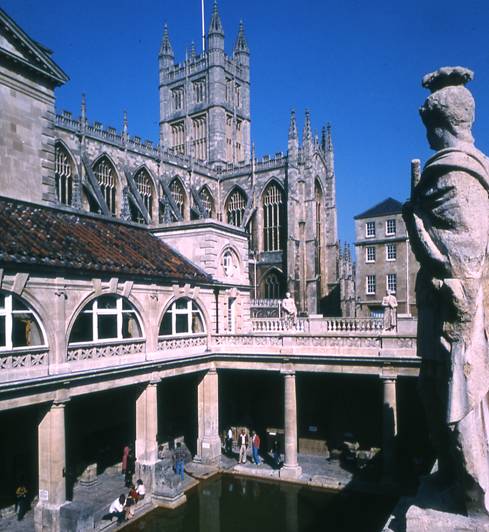 Spa city of Bath, where the bath chair was designed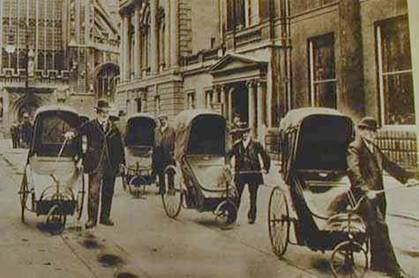 Bath chairs in the city of Bath about 1912 (from Google)
-o0o-