Woomera Hospital
Acknowledgments: We are grateful to Ian Hooper OAM and Christine Russel who recently visited Woomera Hospital and met Helen Ferol to see items in the museum. We also thank the staff of the hospital who kindly sent us photographs of the stored items.

Early 19th century explorers considered the area hostile and uninhabitable. Some hundred years later, after the end of the second world war, the introduction of V2 rockets by Germany provided a major stimulus to the development of ballistic missiles, and a search for a suitable missile range began.
In April of 1947 Len Beadell surveyed the land of Acoona station and in 1948 the Australian government acquired the land.  Work began to construct an airfield, access roads and a water pipeline from the Murray River. Woomera "village" (Woomera is an aboriginal name for a spear thrower) was built to accommodate scientists and support staff. The area of some 270,000 acres/hectares/square miles had restricted access until 1982.
The area provided facilities for Britain and Australia (the Anglo-Australian Joint project),  USA, (Nurrungar and NASA), European Space Agencies (ELDO) and Japan (NAL) until 1999. Woomera is situated in a low enough latitude to launch an orbital satellite (taking advantage of the faster speed of the surface of the Earth as it rotates) a situation not favoured by high latitude countries.
The population varied and for most of its history consisted of international scientists and local support personnel. Mure recently the Woomera Detention Centre was established. At times the population exceeded 5,000. Thus the need for a hospital became obvious. In the past it provided a 24 hour service, had a resident general practitioner and visiting medical and paramedical specialists. The regional hospitals at Pt. Augusta, Pt. Pirie and Whyalla, acted as further referral centres.
Currently the interest in space and rocketry has decreased and Woomera's population has fallen. The mining boom at Roxby Downs about 80 Km. away is attracting a large number of workers and residents. Consequently there is need for another hospital within a short range to serve a growing Roxby population. It is inevitable that unless the use of the Woomera Rocket Range changes the hospital's role needs  reviewing. The hospital stores items used by the Hospital staff in the last century (1980s) These will be important relics in the future. It is vital to preserve them for future generations.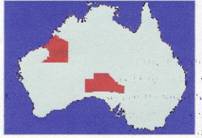 Outline of the prohibited areas showing  the launch (lower right) and retrieval (upper left) sites.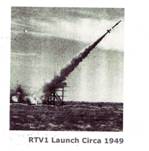 One of the first rocket launches at Woomera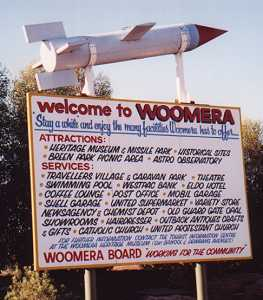 "Welcome to Woomera!"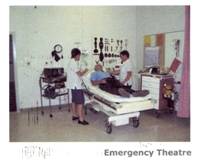 Emergency operating theatre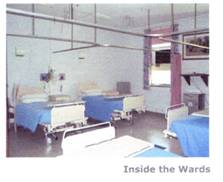 Inside the wards


Satelite view of Woomera.
Blue balloon with black dot marks the hospital
A collection of glass syringes and needles, mostly luer-lock. An older record syringe (right) Currently syringes and needles are plastic and disposable.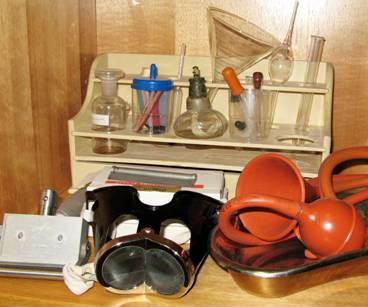 A urine testing kit (above) magnification goggles (below) enema kit (right)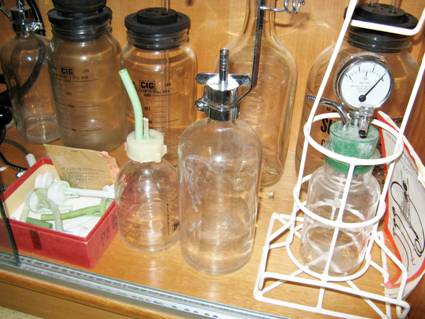 Various glass bottles now mostly plastic and disposable
An early  "Redivac " bottle with stoppers (front left).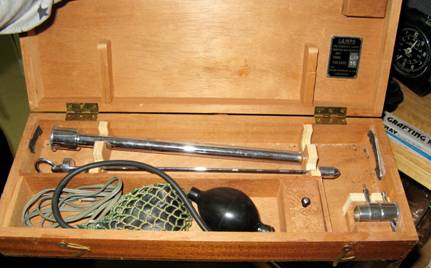 A wooden box containing a sigmoidoscope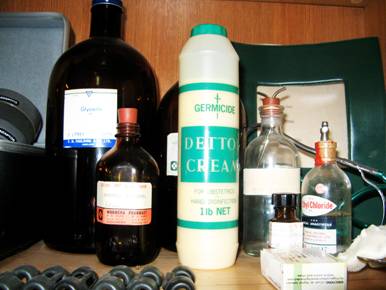 A collection of lotions and Detol cream.  early  anaesthetic bottles with ether dripper & ethyl chloride spray on extreme right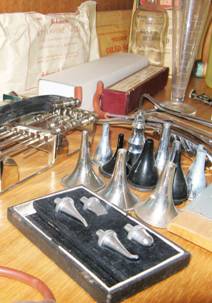 A collection of aural specula, a urine jar and trochars.
A mouth gag with rubber sleeves is in the middle.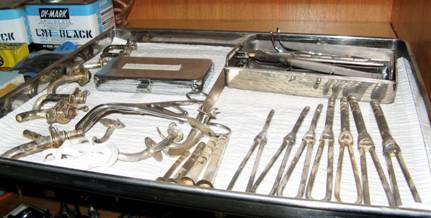 An early 20th. century set of metal tracheostomy tubes and dilators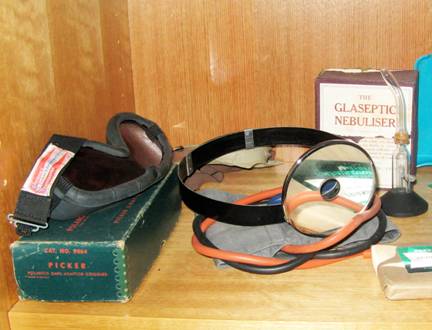 A concave mirror (right) and Picker radiologist goggles (left)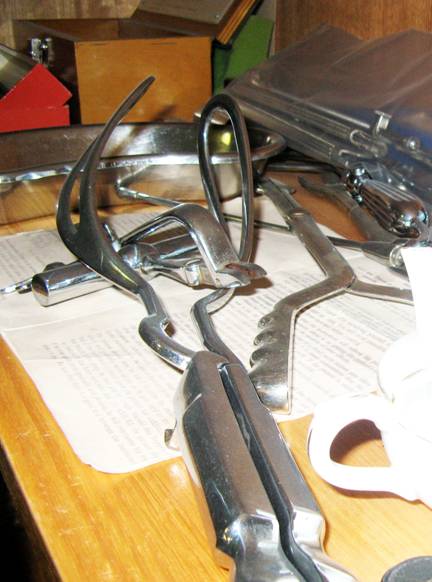 Obstetrics forceps (centre)      
Skin graft "Humby" knives (top right)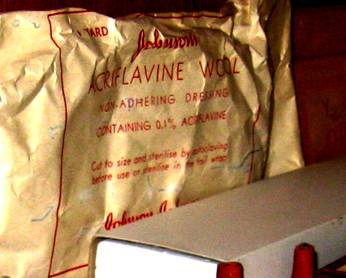 A sachet containing acriflavine wool used to dress skin grafts
-o0o-